Toshiba Tries To Reboot
Can its new captain lead his huge team back into the black?
Irene M. Kunii and Neil Gross
It's difficult to gauge change in corporate Japan--particularly in a sprawling high-tech Goliath like Toshiba Corp. that manufactures everything from washing machines to laptops to nuclear power plants. Yet Tadashi Okamura, who took over on June 28 as CEO and president, was determined to make a symbolic gesture that conveyed the new Toshiba. So he ordered staff to dismantle models of a satellite and a fast-breeder reactor that since 1984 had greeted employees and visitors in the lobby of Toshiba's Tokyo headquarters. Okamura, 61, will probably replace them with futuristic Toshiba e-commerce kiosks or digital televisions. Either way, he says, "power plants and satellites are no longer symbols of where Toshiba is headed."
If only remaking a $57 billion company were as simple as redecorating the lobby. Like other Japanese electronics giants, Toshiba is finally starting to recover from Japan's long recession and predict profits again after three years of paltry earnings and even losses (chart). Unlike its high-tech peers, however, Toshiba is struggling to get over a costly class action triggered by sales in the U.S. of laptops with defective disk drives. The writedown on the $1 billion settlement has sapped Toshiba at a time when rivals Fujitsu and NEC Corp. are well along the road to recovery. Rivals also have moved more quickly to pare down redundant and unprofitable divisions and reduce dependence on memory chips. But Okamura says Toshiba, too, will be revamping chip operations. "We'll be making more balanced investments from now on," he says.
FLASHY COMEBACK? Okamura has high hopes that booming sales of chips and cell phones will reverse Toshiba's fortunes. From a net loss of $262 million last year, mostly due to the settlement, Toshiba forecasts net profits of $934 million this year, on a 6% increase in sales, to $57 billion. Toshiba's dominance in a kind of "flash" memory chip--which retains data when the electricity is switched off--also gives the company a leg up on competitors. Intel, Advanced Micro Devices, and Fujitsu are also major suppliers of flash chips. But Toshiba's variety is especially suited to large files, such as photos in digital cameras or music in MP3 players. What's more, other companies that decide to build this type of chip will have to pay license fees to Toshiba. "Toshiba holds a lot of patents and will be in a strong position if these types of applications take off," says Yoshiharu Izumi, an electronics analyst at Warburg Dillon Read in Tokyo.
Okamura is capitalizing on such strengths by taking over the reform plan begun by his predecessor, Taizo Nishimuro. Two years ago, Nishimuro mapped out a plan to slash spending in unprofitable areas, such as energy and heavy equipment, so that resources could go toward information technology--a sector he foresaw as holding the greatest profit potential. He carved the company into nine divisions, known as "in-house companies," each with responsibility for responding quickly to changes in the marketplace. Then, in a three-year plan announced in March, Nishimuro resolved to funnel by 2002 80% of the company's $6.4 billion in yearly research and capital spending to information-centric divisions, such as PCs, mobile Internet phones, chips, and computer displays. This year, his strategy got a boost from soaring global demand for memory chips and other IT products.
COSTLY MISTAKE. At the same time, however, the U.S. lawsuit took the wind out of Nishimuro's sails. The problem dates back to the late '80s, when Toshiba began using disk-drive controller chips based on a design from NEC. The flaw, in theory, could cause catastrophic loss of data in laptops--a problem that NEC had discovered and fixed. NEC also issued warn ings about the bug, thus reducing its future liability. Toshiba, mysteriously, kept mum. Ten years later, a group of Texas lawyers sued Toshiba on behalf of plaintiffs who claimed that their data was at risk. Toshiba settled, setting aside close to $1 billion to cover refunds and legal fees.
As the details of the case came to light, analysts criticized Toshiba for caving in too quickly. Nishimuro had never acknowledged that Toshiba shared culpability. And indeed, no loss of data was ever reported by any of the plaintiffs. But Nishimuro defended his decision, saying that an unfavorable verdict might have led to damages as high as $9 billion, which could have forced Toshiba into bankruptcy. Right or wrong, shock over the settlement may have precipitated Nishimuro's decision to pass the baton to Okamura.
Many analysts, as well as competitors, say Okamura is the right man to carry on the reforms. "Toshiba has some liabilities," says NEC President Koji Nishigaki, "but I know Okamura well, and he has some real capabilities." Okamura, who earned a law degree from the prestigious University of Tokyo, has presided over several technology shifts since he joined Toshiba in 1962. He ran a division handling computerized process-control gear for heavy manufacturing, as the technology shifted from analog to digital. He then steered the communications unit, as traditional telecom switches morphed into Internet-based ones. Before taking the mantle from Nishimuro, he headed the high-profile Information & Industrial Systems division. "In each area, I was in charge when there was a major shift, so I'm not worried by the changes I see today," says Okamura.
Compared with NEC and Fujitsu, though, Toshiba has a lot of work to do. Last year, NEC dramatically shook itself free of an old managerial regime. It announced two massive overhauls including slashing 10% of the workforce. And analysts applauded in early July, when NEC committed $5.6 billion to global mergers and acquisitions. Fujitsu is also running ahead of Toshiba in restructuring. It's leaner, more profitable, and more concentrated. Fujitsu's operating profit margin ratios are 4.7%; Toshiba's are 3.7%.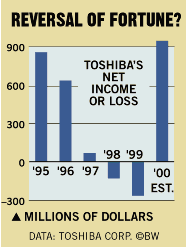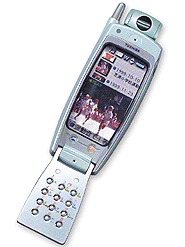 That makes speeding Toshiba's reforms essential. Okamura is eager to do that. As Japan gears up for a new burst in IT spending, companies are budgeting record outlays on powerful computers to host corporate intranets and Web-based supply chains. Consumers are snapping up Net gadgets and Internet game consoles. But unlike in America, where startups are driving most of the action, "big, traditional companies are playing the role of integrators in Japan," says Masahiko Aoki of the Ministry of International Trade & Industry. Okamura struck the right symbolic note when he swept satellites and power plants from Toshiba's lobby. Now Toshiba has to enter the Internet Age.
Before it's here, it's on the Bloomberg Terminal.
LEARN MORE