Europeans are shopping for water in the U.S. Specifically, they're buying U.S. water companies, which provide higher margins than utilities across the pond. Earlier this year, Britain's Kelda Group, which owns Yorkshire Water, purchased Aquarion, Connecticut's largest water company. That didn't quench Kelda's thirst. It has since stated that it will make more U.S. acquisitions and sell its Yorkshire unit in Britain, where the water industry is tightly regulated.
Where will Kelda turn next? Whispers say it is eyeballing Connecticut Water Service (CTWS), the state's second-largest. Mutual-fund maven Mario Gabelli says the industry is consolidating and "everyone worth talking to has been approached" by Kelda. "My sense is Connecticut Water is on the radar screen of buyers looking for U.S. utilities," says Gabelli, who has been buying. The stock fell from 32 1/2 in mid-March to 26 in May, but has been rising since, hitting 29 3/4 on July 12. Gabelli thinks CTWS is worth 40.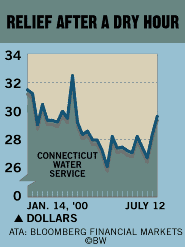 Charles LaLoggia, editor of Superstock Investor, who has picked out four utility takeovers in the past year, says buying CTWS would solidify Kelda's water business. CTWS serves 39 New England towns, he says, and has amended its contracts with top management people to protect their jobs "in the event of a change of control." Others said to be on the prowl: France's Vivendi, which has acquired Seagram; Thames Water, which has bought the E'town utility in Westfield, N.J., and Britain's Severn Trent. CTWS CEO Marshall Chiaraluce says the company's goal is to enhance shareholder value but denies he's in talks with any suitor.
Before it's here, it's on the Bloomberg Terminal.
LEARN MORE