Running With A Bond Bull
Loomis Sayles's Dan Fuss tells how he finds winners--and avoids "the crocodiles"
Robert Barker
Not long ago, I was sitting down at an investment conference to talk with Dan Fuss, a Loomis Sayles veteran who is to bonds what John Templeton was to stocks--the first, best, globe-trotting value investor. Suddenly, Vanguard Group founder Jack Bogle popped in the room. He swiftly sized up the situation.
"Bonds!" he boomed. "They're the best investment now. Good-quality corporates are paying 8%." Fuss smiled, but looking after $15 billion of other people's money, he's acutely aware of the risks, especially if the Federal Reserve keeps tightening credit. "Can I quote you on that?" Fuss replied. "Will the Fed guarantee it?"
For 42 years, Fuss has been balancing bonds' opportunities and dangers--or, as he calls them, "crocodiles just below the surface." Usually, the opportunities tilt his way. After fees, his investment-grade portfolios since 1986 have returned 10.9% in the average year, against the 8.5% of the Lehman Brothers Aggregate Bond Index. His "high-yield," or junk-grade, portfolios performed even better, up 13.1% against the Credit Suisse High Yield Index's 9.8%.
Fuss, who turns 67 in September and has no plans to retire, hasn't established that track record by sticking with the pack. "Fixed-income management has become more and more quantitatively oriented," observes Mark Wright, the Morningstar analyst who knows Fuss best. "But he operates a lot more on common sense and fundamentals.... He's one of those crotchety old men who's stuck in his ways."
Does common sense always make Fuss right? No. He wrongly anticipated a ruling-party victory in Mexico's recent presidential election, for instance. But he's ever careful. A perfect example is what Wright calls Fuss's "obsession with call protection." When a bond issuer redeems a bond before its final maturity, it usually leaves investors in the lurch: flush with cash but without anywhere quite so rewarding to reinvest it.
Many bond managers now assess call risk statistically--the way actuaries reckon insurance risks--and accept a certain tolerable level. Not Fuss, who digs deeply into the legalese of bond covenants to avoid unpleasant surprises. "He once told me," Wright says, "that his 40 years of managing bond funds was a continuous lesson in bond issuers taking bonds that you want to own away from you."
GLOBAL GOULASH. So when I asked Fuss how his portfolio was positioned, he was quick to list solid call protection along with a relatively long-term average bond maturity of nearly 18 years, plus a higher-than-usual average credit quality. The makeup of his $1.7 billion flagship, the Loomis Sayles Bond Fund (chart), shows his unconventional thinking. It is a global goulash of bond maturity, coupon rate, and quality. Mixed in are domestic industrial bonds, including convertibles, from Philip Morris, Baker Hughes, and Loews, along with such offerings as a Bangkok Bank issue maturing in 2029, lots of Canadian public-sector bonds, plus a few select bets in Latin America. He's moving money there as Asian wagers made a few years back, such as Samsung Electronics, pay off. He courts currency risk only warily.
Fuss is sidestepping Europe right now--"the economy is doing well, and all the bonds are overpriced," he observes. He's also treading carefully in North America, where, he notes, "the degree of [price] competitiveness in the industrial sector is just incredible. I've never seen anything like it. If you've got high-cost debt that you raised three years ago, you're in trouble." Fuss nonetheless has picked up some beaten-down bonds of such auto-parts manufacturers as Federal-Mogul.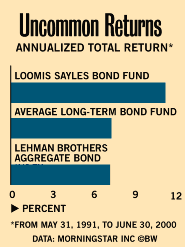 What will the Fed do when its policymakers next meet, in August? "I don't know," Fuss shrugs. Unlike most bond pickers, Fuss is as worried about the toll joblessness exacts on economic demand, corporate profits, and credit quality as he is that full employment will spell inflation. "When anybody who wants to work can work, that's a good thing," he said. "Cut that off, and you'll pay in social problems."
Weird words from a bond bull--and just the kind of unusual thinking that usually helps Fuss beat the bond-market averages, whichever way interest rates go next.
Questions? Comments? Send an e-mail to barkerportfolio@businessweek.com or fax (321) 728-1711
Before it's here, it's on the Bloomberg Terminal.
LEARN MORE