New Tricks For An Old Tax Preparer
H&R Block wants to offer full-line financial services
Heather Timmons
Nearly 16 million Americans drop into H&R Block Inc. offices once a year to get their taxes done. If they could be lured back more often to get financial advice and home loans, buy mutual funds, and plan for retirement, the theory goes, they would be a gold mine of extra fee income. Charged with making this happen is COO Mark A. Ernst, 41, who becomes chief executive on Dec. 31, succeeding Frank L. Salizzoni. Ernst promises the company will serve "Middle America," the low-to mid-income market that most brokers and banks overlook in their scramble to attract wealthy clients.
Skeptical Block watchers have a strong sense of deja vu. After all, the Kansas City (Mo.) company has been threatening to do more than taxes since the early 1990s. And for almost five years, it has been promising to convert at least some of its 9,000 offices into financial-service centers. But that's been slow going due to a series of management changes, strategy zigzags, and downright flubs the company has suffered. Insiders say, for instance, that the firm's conservative board--dominated by the founding Bloch family and associates--passed up an offer to buy, in the mid-'90s, half of online broker Ameritrade for $35,000; nixed another cheap deal for AOL; and sold Compuserve Inc. for half what Block was originally offered.
Recently, earnings disappointments, technology glitches, and the denouement of old lawsuits have dragged Block stock to the low 30s, around half its 52-week high. Block missed its original earnings' estimates for the fiscal year ended Apr. 30, 2000, by 35 cents a share. To blame: Block's Web site, which drew fewer filers than expected and had to be shut down temporarily at the height of tax season because of security breaches, smaller-than-expected walk-in business, and provisions to settle class actions that alleged Block misled clients about fees charged for tax-refund loans.
That's hardly an encouraging prelude to Ernst's reign. But at least there will be a break with the past. When Ernst takes over, it will be the first time in the company's 55-year history that there is no Bloch in top management. Co-founder Henry W. Bloch retires as chairman in September. Ernst fills a vacancy created in mid-1995 when Tom Bloch, son of Henry, traded in his corporate career to teach high school. Enthusiastic and affable, Ernst claims his "whole career has been leading to this job." He worked as a tax preparer during his college years and until 1998 headed third-party investment sales at American Express Co.
LIKE CHRISTMAS. Analysts say Ernst is inheriting a company with lots of potential, but a poor history of executing new ideas. Block, for example, purchased wholesale subprime lender Option One Mortgage Corp. from Fleet Financial Group Inc. in 1997. By July, 1999, the unit was up for sale. Block hadn't been able to sell as many mortgages to its tax customers as expected because of regulatory hurdles. It still owns the unit, and loan growth, mostly from third-party brokers, was up nearly 50% this year. "This is not a dead franchise by any means," says Gary F. Prestopino, an analyst with Tucker Anthony Sutro Corp. But he compares watching the company's performance to date to "Christmas when you're a kid, where you don't get the toy you really want, and your parents say, `Well, wait till next year."'
Superficially, Ernst's plan to sell financial services sounds sensible: Block's 90,000 tax preparers spend upward of an hour with tax filers, and many come back year after year to the same person. In the process, filers, who have a median annual income of $32,000, trust their preparers with personal financial data. "The depth of relationship we have with our clients is different than someone with a checking account at a bank," says Ernst. With its built-in repeat business, he argues, Block doesn't need to spend heavily on marketing, and can thus afford to cater to customers with smaller accounts.
Others have succeeded in this market. Primerica, a unit of Citigroup, sold $6 billion in annuities, mutual funds, and loans last year to households with annual incomes between $35,000 and $75,000. Rather than hiring salespeople, Primerica relies on a network of 100,000 commission-only agents. Consciously mimicking those tactics, Ernst plans to transform some of Block's part-timers into full-time financial advisers. Block started offering broker- and financial-planning license training, for a fee, this year. Analysts are skeptical about the strategy. It's not impossible, says Michael Hodes, a Goldman, Sachs & Co. analyst, but "few have been able to take a seasonal, independent sales force that's focused on a narrow product" and train it to sell a variety of others.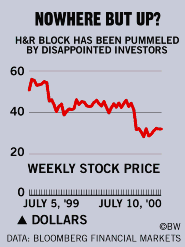 METAMORPHOSIS. At Ernst's bidding, Block bought broker Olde Discount Corp. last August, and has been converting the offices into Block financial-service centers. Consultant and design firm Willey Brothers Inc. was hired to transform the look of the Olde branches, creating an environment that is "comfy for Middle America," says Willey Senior Vice-President Geoff Walters. Olde's dark-green carpet and cherry desks will be replaced with lighter woods and yellow, orange, and blue workstations. By yearend, all 181 Olde branches will emerge as Block financial centers, bringing the total number to 200, Ernst promises.
Already, some Olde branches plus selected Block offices have started selling the new services. They have booked 5,000 mortgage or financial-services customers since January. It's a beginning--but Ernst still has a long way to go before the company delivers what it has promised.
Before it's here, it's on the Bloomberg Terminal.
LEARN MORE