It's Tough To Be A Working Woman...But The Web Is A Bright Spot
Jennifer Veale
Mi Hae is gloomy about her career prospects. "I'll probably never get a promotion," says the 29-year-old communications worker, who does not want her company identified. "No women in this company have, at least beyond assistant general level." There are a couple hundred general managers, the next grade up, she estimates, but "I can't think of a single woman at that level. Management doesn't want to give women any real responsibilities, but they say they can't promote women because they haven't been tested." Most women at her company, she says, end up quitting and don't even think about a long-term career.
South Korea may be technologically advanced, but when it comes to the status of working women, the country is stuck in the slow lane. Only two years ago, when the economy hit the skids, tens of thousands of female workers were sacked. Nowadays, under the banner of restructuring, women are still first on the firing line. The government is elated that unemployment has fallen from a record of nearly 10% two years ago to less than 5% now, but the situation for women in the workforce "is getting worse," declares Kang Sun Mii, a researcher at the Center for Women's Studies at Ewha Women's University.
More women, she says, are being forced to sign part-time contracts as companies try to cut operating costs. Women are also becoming redundant in record numbers at banks--historically one of the nation's biggest employers of females--as branches toss out tellers and replace them with electronic cash machines. Women are flocking to advertising and marketing jobs, where they've been able to carve out a niche for themselves, but openings there are fast becoming scarce.
Women's civic groups say that more women in their late 20s and early 30s are turning to prostitution. Last year, embarrassed bureaucrats conceded that the number of wonjo-kyoje, or younger women dating older men for pocket money, is "increasing rapidly." And a drive to curb the rapidly growing sex industry has proven fruitless as prostitutes don business clothing to look more like respectable office ladies than hookers. "The trade is just more invisible," laments Ewha's Kang.
TYCOONS. To be fair, Seoul has done its bit to improve the status of women. Since President Kim Dae Jung came to power in early 1998, the number of female elected officials has risen from 3% of the total to 6%, and state-owned enterprises have hired more women in decision-making positions. The government also tweaked the Equal Employment Act, barring companies from having separate management-track systems for men and women, and making sexual harassment workshops mandatory.
But in the office towers and factories of the top five chaebol, which employ 4% of the workforce, the government's call for sexual equality has gone unheeded. There, tycoons in their late 60s refuse to hand over any power to women. Hyundai and Samsung, the two largest chaebol, between them have more than 80 CEOs at affiliated companies, none of them women. Female job seekers often complain that they can't get a foot in the door of these corporate behemoths once they've hit the ripe old age of 26, because above that age they're supposed to be raising kids. And a work culture that demands late-night drinking and golf weekends ensures that females don't get promoted. Says Kim Ock Young, researcher at the Korean Women's Development Institute in Seoul: "Women can't go out and socialize this way, because they're expected to be home, taking care of their children."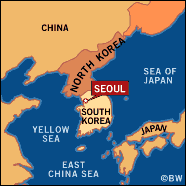 The Internet boom, however, has been a godsend for women in Korea. While only 3% of some 6,500 high-tech companies were founded by women, employees say tech companies care less about gender. "When my company hired me, they only wanted to know what skills I had. They didn't seem to care that I was a woman," says Kim Ki Hyang, a manager at M2 Community, a digital marketing outfit. Adds Kim e-Sook, who founded an Internet business consulting company, e-Corporation, 18 months ago: "What matters to clients is whether you can solve their problems."
Young female college graduates, consequently, are flocking to high-tech startups. And Kim Dae Jung's government has coughed up about $100,000 to help women with high-tech dreams. That's not a lot of money--but for Korea, it's a start.
Before it's here, it's on the Bloomberg Terminal.
LEARN MORE