Hanging Up On Qualcomm
Qualcomm's CDMA cell-phone system is losing out to a European standard
Steven V. Brull
For wireless wunderkind Qualcomm Inc., no market has been more crucial than South Korea. In 1996, that Asian Tiger was the first to adopt Qualcomm's high-capacity code division multiple access (CDMA) technology, which many thought too complex for commercial use.
Now, six out of 10 South Koreans own cell phones, all of which use Qualcomm's CDMA technology. In total, the country generates about one-third of Qualcomm's revenues and nearly half its profits. Given that, it's easy to understand the impact of the July 7 announcement that South Korea's wireless industry may dump Qualcomm's technology for its next-generation systems, adopting instead a European standard. Qualcomm's shares plummeted 8%, to $56.63, before recovering to $61.
The news, in fact, was the starkest evidence yet that Wall Street's estimates of the wireless pioneer's fortunes have been greatly exaggerated. Last year, Qualcomm's stock soared 2,616%, to $200, on the simple idea that its lock on CDMA patents would make it the Intel of the wireless world, guaranteeing a huge future stream of royalties from users and rivals. But with its prospects around the globe looking increasingly shrunken, the market has lately been imposing a more sober view.
"AWAKE AT NIGHT." For now, Qualcomm's current wireless technology has an 18% global market share. And that figure has been rising from growth in North America, where support from Sprint and Verizon Communications remains strong. But eroding overseas backing means that Qualcomm's market share and earnings growth could begin to decline in several years, when the next generation of technology is widely deployed.
Management is scurrying to downplay any lowered expectations. "You're hearing a lot of rhetoric," says Richard Sulpizio, Qualcomm's president and chief operating officer. Indeed, South Korean wireless operators won't make any final decisions until September. And even though Seoul says wireless operators are free to choose between Qualcomm's CMDA2000 technology and Europe's system--known as W-CDMA--analysts expect at least government-owned Korea Telecom to stick with Qualcomm's technology.
What's more, Qualcomm still claims that its royalty income will mushroom, no matter which standard prevails. It claims that its platform is crucial to both. Its only concession that it might face reduced earnings in the future comes in the wireless chip-set business. Qualcomm makes chips for that market, which is growing more competitive. "That's what's keeping me awake at night," says Sulpizio.
Still, few on Wall Street have been willing to buy Qualcomm's rosy projections. "It can't possibly be the same royalty," says Charles A. Di Sanza, a telecom analyst at brokers Gerard Klauer Mattison & Co. in New York. Qualcomm royalty income will fall, he says, because Nokia, Motorola, and Ericsson all own important patents for W-CDMA. Meanwhile, in the chip market, Texas Instruments Inc. and Intel are likely to be extremely competitive.
Ultimately, decisions over whether or not to adopt Qualcomm's next generation of wireless systems have little to do with technological superiority. Both CDMA2000 and W-CDMA, as well as other next-generation platforms, all of which are known as third generation (3G), will transmit data and images at extremely high speeds. But W-CDMA is gaining strength because it will dominate in Europe and Japan. "Nations like Korea fear they will become isolated islands in services and technology in [Qualcomm's] 3G," says Bob Egan, research director for mobile and wireless at Gartner Group Inc.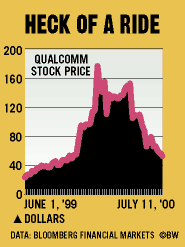 With support potentially eroding in Korea, analysts fear similar setbacks in Japan, China, and possibly even the U.S. In Japan, DDI, the sole carrier using CDMA technology, flirted publicly earlier this year with the idea of not signing up for Qualcomm's 3G, only to change its mind a month later. Analysts say Toyota Motor, a major backer, was pushing DDI to adopt a widely used American platform. And in the U.S., Ameritech Corp. is tearing out its CDMA gear so that it will be compatible with other networks controlled by its parent company, SBC Communications Inc.
How badly will Qualcomm be hurt? To keep its position from eroding, analysts say that it will have to accept that its future growth hinges on its ability to create a new product line built on W-CDMA technology. Indeed, industry insiders now expect to see Qualcomm buy or form a partnership with a W-CDMA-versed company. It had better hurry.
Before it's here, it's on the Bloomberg Terminal.
LEARN MORE