Alteon Is "Off The Charts"
by
When Alteon WebSystems (ATON) jumped 30, to 131, on July 11, plenty of shareholders took profits. But others didn't. Alex Henderson, an analyst at Salomon Smith Barney, kept his "buy" rating and raised his target on Alteon, a maker of switches, adapters, and software for managing Web traffic.
Henderson upped his mid-June target of 100 to 150 in early July and just lately to 175. Why? Two reasons: fundamentals and takeover talk.
Alteon's recent signal that sales in the June quarter could rise 80% from March "is off the charts and represents a sharp acceleration from the 56% gain last quarter," says Henderson. That alone justifies the target of 175, he argues.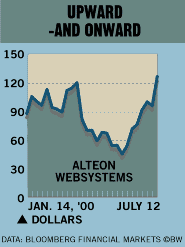 And Alteon has become enticing buyout bait--ever since Cisco Systems acquired ArrowPoint in May. ArrowPoint makes Web switches that route requests for content or transactions to network servers best able to handle those requests. Such "smart" content-aware switches are "at the heart of a major new evolution in networking technologies," says the analyst. Alteon leads in making such smart switches.
Alteon now becomes "the most valuable and strategically attractive player in that space," says Henderson. Lucent Technologies and Nortel Networks will have to catch up with Cisco on its content-aware products. With Alteon looking increasingly attractive, Lucent or Nortel could seek to buy the company, he says. Alteon would not comment. Lucent has an OEM pact with Alteon on some Web switches but declined comment on the takeover talk. Nortel also wouldn't comment.
Before it's here, it's on the Bloomberg Terminal.
LEARN MORE