Urban Renewal In Fits And Starts...Gets Mixed Reviews In Madrid
By
Madrid City Hall's ambitious plans to spruce up the quaint but seedy historic center look great on paper--but carrying them out is proving an uphill struggle. Ask any tourist who, braving 90-degree heat this summer, has stumbled into the labyrinth of torn-up asphalt and scaffolding where gangs of knife-wielding urchins prowl.
After decades of neglect, City Hall has set aside $100 million, $20 million of it from the European Union, to regenerate the densely packed neighborhoods around the Rastro flea market and in Lavapies, just south of the city's tourist center, the Puerta del Sol. "The center of Madrid is a kind of Cinderella," says Ignacio del Rio, the city council member running the project, which began in 1996 and will end in 2004. "Attention, care, and a smattering of makeup will reveal its hidden charms."
Plazas and streets have been repaved in granite, vital shade added by planting trees, and key buildings rehabilitated. The ruins of the 19th century Escuela de Pios church, burnt by Republicans during the Spanish Civil War, will be turned into a correspondence-course university and library. Queen Isabella's 16th century Casino gardens will be redesigned and landscaped, and the old Sala Olimpia theater will become a state-of-the-art playhouse. Grants of up to 100% are available for residents to renovate their homes. The authorities hope all this will trigger the full redevelopment of the area.
The old center certainly needs a tonic. Lavapies, the city's Jewish quarter before the Christian pogroms of 1492, later became the quintessence of Madrid's castizo ("authentic, pure") culture, the haunt of Carmen-style cigarette rollers and the working-class dandies, or "Manolos." But in the past 50 years, the barrio has spiraled into decline. Young people have fled in droves, and the 19th century tenements have turned into slums where 1 in 5 apartments still have no bath or shower, and 8% even lack a bathroom. "Some buildings are really vertical shantytowns," says del Rio.
TALL ORDER. The project aims to emulate the success of inner-city development projects in Paris, Barcelona, and other European cities, where strategic location of new cultural facilities in problem areas has lured young professionals to live where none dared tread before. "Our project isn't on the same scale as what Paris did in the Bastille with the new opera house, but that's the idea," says Angela Garcia de Paredes, who designed the new Sala Olimpia theater.
Gentrifying Madrid's center, though, is a tall order. While revamped inner-city tenements and warehouses have become fashionable in other European cities, even the yuppies in Madrid seem to prefer a house in the suburbs. Developers don't see great potential in the area. "Streets are narrow, buildings are gloomy inside. Even now, in the middle of a real estate boom, there's little demand," says Santiago Aguirre, one of Madrid's leading developers.
To make matters worse, social problems seem to be on the increase. A massive influx of poor immigrants from Morocco, Latin America, China, and India has earned Lavapies the dreaded "ghetto" label, dramatized by lurid media reports of the "glue gang," a bunch of teenage Moroccans who sniff paint remover, hold up tourists at knifepoint, and make their getaway through the maze of streets and building sites.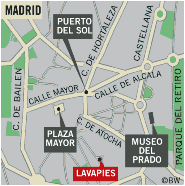 Many Madrilenos complain that City Hall has spent too much time and money restoring appearances and too little preparing people for a new social reality in an increasingly multi-ethnic area. Even the aesthetics of the project are "mildly repugnant," says architect Ricardo Aroca, one of the most outspoken critics of the council. With pseudo-19th century Fernandino lampposts, statues of castizo legends like the Violetera flower-seller--immortalized in a music-hall song--and ornate, wedding-cake-style news kiosks, "they're trying to recreate a past that never really existed," says Aroca.
But most locals are fully behind the project. "You think this is bad, you should have seen it a few years back. There were junkies in the square and cars parked right up to your doorstep," says Julian Gonzalez, a native of Lavapies who, now a multimedia designer, has come back to live here--just as the mayor wants.