business
The Koreas: Ready To Do Business?
Pyongyang has a lot of work ahead
Stan Crock
When negotiations started last year, everything was exceedingly formal. In an ornate room in a government building in Pyongyang, Startec executive Anthony Das sat facing three North Korean officials seated in straight-backed wooden chairs 20 feet away as they discussed a deal to set up Internet-compatible phone service linking the isolated country to the outside world. But by the time the contract was inked in May, the two sides were dining together at the same table in a Beijing hotel, schmoozing about everything from U.S. Presidential politics to the size of the Grand Canyon. "Their entire demeanor had changed dramatically," Das recalls.
If the Bethesda (Md.) telecom provider's experience is any guide, North Korea's new charm offensive is reaching beyond the diplomatic arena. Plagued by floods, droughts, famine, and energy shortages, a desperate Pyongyang is starting to open up to both Western capitals and capitalists for help in reviving its shattered economy. How much allure the tiny $12.6 billion North Korean economy has for foreign investors will depend on the scope of the economic changes Pyongyang adopts. It needs to overhaul everything--from laws protecting foreign investment, to its pricing system and exchange rates.
North Korea has a tremendous amount of work ahead before it convinces investors it is serious. The nation of 22 million is still dominated by a totalitarian regime with an atrocious record of keeping its word in any dealings with the outside. It also is embarking on a transition unlike any other communist economy that has come in from the cold. Central European countries had far more contact with the outside and industries that were in much better shape. Even analogies with China in 1979 don't fit: Besides offering companies a potential market of 1 billion people, Beijing was under the helm of Deng Xiaoping, who was bent on turning China into a modern power. Pyongyang leader Kim Jong Il seems to have no such pretensions--and is determined to keep an iron grip on society. Korea Economic Institute of America research director Peter M. Beck labels Kim's model "market Stalinist."
This suggests foreign investors cannot count on the kind of cozy rapport seemingly struck by Startec. Rather, North Korea's entry into the global economy is likely to be fraught with tension as Pyongyang struggles to balance the contradictory demands of business with its own penchant for total political control. The North's goal of keeping its society from being "contaminated" by capitalist ideas means it will be hard even for foreign investors to freely travel to their own factories and communicate with workers. Many experts warn that Kim will open the economy only enough to get it out of its current crisis---and could slam the door again when the danger passes.
WASTELAND. The crisis is real enough: Hundreds of thousands of people have starved to death over the past six years, while countless others risk their lives crossing the Chinese border to sell whatever they can. Gross domestic product shrank by roughly half between 1990 and 1998. And decades of mismanagement and a lack of hard currency have turned its once proud chemical and machine tool industries into a wasteland. Still, North Korea has some assets. Foreign analysts say the country's workforce is literate, disciplined, and cheap: Wages in the few manufacturing zones set up so far average $150 a month when all social service fees are included, and just $40 a month in the interior. With its proximity to South Korea, Japan, and Russia, the North could be a viable base for light industries such as garments, toys, and basic appliances.
Already, 132 South Korean companies make everything from wallets to TV sets under a system known as "production on commission." Rather than pay workers directly, they give a fixed sum to the North Korean partner for each finished good. Parts are shipped by sea from the South Korean port of Inchon to the Northern port of Nampo. They then go to factories for final assembly. Although finished products sometimes are shipped directly to Japan or Europe, often they go back to the South for reexport. Such trade grew by 40% last year, to $100 million. And it has been a big driver behind the surge in total trade between the two Koreas, from just $13.5 million in 1990 to about $333 million last year (chart).
Although the workmanship was shoddy at first and prompt delivery remains a problem, Korean companies say quality in Northern factories has improved quickly. In June, Samsung Electronics Co. imported its first TV sets from a plant in a Pyongyang suburb. It has been satisfied enough to buy another 18,000 by yearend.
With better management, legal protection for investors, and transportation, however, the "processing trade could take off," says Jo Jong Nam, a trade official at Seoul's Unification Ministry. A direct rail link could cut transport costs by up to two-thirds, he says. Given more capital and technology, the North also could export anthracite coal, tungsten, and other minerals. And it could draw many more tourists than it does now from the South.
Hardly the makings of a new industrial dynamo, to be sure. But even to exploit these meager assets, Pyongyang must first address the nation's primitive infrastructure. That will require diplomacy. The South has agreed to pour millions of dollars into roads and harbors. Japan also could supply substantial aid.
NO HELP. To lure multinationals, though, Pyongyang must go further. Japanese companies got burned when they invested in the North to make goods ranging from garments to pianos in the early 1990s. High shipping costs--and the North's failure to pay its bills--forced most of them to pull out. Foreign banks are wary because Pyongyang has ignored legal action to recover $12 billion in loans. "Japanese companies and politicians are very cautious because of all the bad experiences in the past," says Japan Defense Academy President Masashi Nishihara.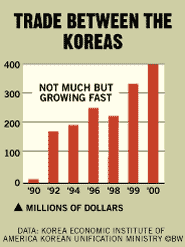 Nor is the U.S. likely to help much, despite the June 19 easing of sanctions. While normal commercial products can enter the U.S. without import licenses, North Korea lacks quotas for garments. It isn't competitive in most other goods the U.S. buys. Major aid won't come until Kim makes more concessions on nuclear weapons.
This will boost pressure for serious reform. The tons of food and fertilizer governments give Pyongyang to cut its weapons programs can stave off starvation. But they won't produce sustainable growth. "Extortion has its limits as an economic development model," says Korea expert Marcus Noland of Washington's Institute for International Economics. Startec officials aren't sure what blueprint Kim will use. "We're positioning ourselves for whatever comes down the path," says Das. That path is likely to be as rocky as the terrain of North Korea itself.
Before it's here, it's on the Bloomberg Terminal.
LEARN MORE