As The Kiwi Economy Limps Along...Australia Licks Its Chops
Tracey Aubin
On Victoria Street, one of the busiest thoroughfares in Auckland, passersby can take a ride on the Sky Screamer, billed as an extreme air bungee. For $17 you can be strapped to a chair in a vertical steel frame and flung 55 meters into the air at 200 kilometers an hour. Operators can't keep up with demand.
But what goes up must come down--and unfortunately, the maxim applies to New Zealand's economy. Back in the mid-1990s, wide-reaching reforms gave the country strong growth rates and the thumbs-up from offshore investors. Analysts dubbed the changes "the New Zealand story." In recent years, fewer and fewer investors have wanted to hear it.
New Zealand was brought low by the double whammy of the 1997 Asian meltdown and a recession brought on by drought in 1997-98. But after the downturn ended, the global tech upswing passed New Zealand by. Growth hit 3% in the 1999 fiscal year, and economists project between 2% and 2.5% for 2000--respectable but not flashy. The New Zealand stock market has been stagnant from 1997 until now, and the local dollar hit a 15-year low in mid-May.
Part of the problem, of course, is that this nation of 4 million simply doesn't have many tech stocks. Says Andrew Bascand, equities manager with AXA Funds Management NZ: "Any dot-coms worth their salt in New Zealand floated in Australia." During the downturn, foreign investors bailed out. The Auckland exchange represents just 0.2% of the world equity pie and was overtaken recently by both Greece and Turkey.
Local companies are fleeing, finding New Zealand too much of a bureaucratic merry-go-round. New Zealand manufacturers estimate that 70 plants have closed, moved offshore, or scaled back operations in the past two years. Fertilizer maker Fernz Corp., saying it had grown too big for New Zealand's capital markets, shifted its headquarters to Melbourne in January, changing its name to Nufarm Ltd. Holding company Brierley Investments Ltd. moved its headquarters to Singapore, where its major investors are based.
BEST AND BRIGHTEST. New Zealanders themselves are on the march. The country's most educated and skilled young people have been crossing the Tasman Sea to Australia (there are no immigration restrictions either way) at the rate of 35,000 annually for the past few years--many to escape loans taken out for hefty university fees.
Business puts the blame for wrecking the New Zealand story on the coalition government led by the Labour Party. When the coalition won elections last November after nearly a decade of conservative rule, Labour leader Helen Clark promised to lift the country out of its gloom, and a brief uptick in growth spurred optimism. But since then, consumer and business confidence has slumped. Says Bascand: "The government has proposed a lot of loopy changes. It's raising taxes when other countries are cutting, and it's winding back labor-market reforms." Adds Ulf Schoefisch, chief economist with Deutsche Bank: "Foreign investors are saying, `What's going on down there?"'
Throughout the Asia-Pacific region, New Zealanders have long been renowned for ferocious nationalistic sentiment. It's as though their intense pride--which is most pronounced when national sporting teams attain victories, such as the 5-0 win over Italy in the America's Cup last March--is in inverse proportion to the country's size, economic horsepower, and geopolitical importance. So there's no little irony that New Zealand's future might hinge on it becoming less independent economically.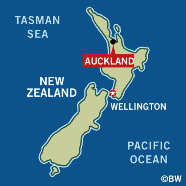 The Auckland stock exchange is already discussing a possible merger with the Australian Stock Exchange in Sydney, with ASX rules to prevail. Economists on both sides of the Tasman are also suggesting that the Kiwi and Aussie dollars could merge to present a stronger buffer to currency hits. Since Australia has five times New Zealand's population, the Kiwi would effectively disappear. There is even talk of New Zealand becoming Australia's seventh state.
Premier Clark quickly scotched this last suggestion--a political hot potato that some Kiwis regard as being akin to treason--but has not ruled out the other mergers. While New Zealanders worry that their identity might be swallowed, the next chapter of their story could depend on it.