Why Chiron May Be On The Mend
by
Chiron (CHIR), like most other biotechs, has yet to recover from its big fall in March. The stock plunged from 67, hitting 34 in May--and is currently at 44. But "recovery should accelerate from now on," predicts James McCamant, editor of Medical Technology Stock Letter in Berkeley, Calif.
The big drop was triggered in part by a revocation in Europe of a patent that had been given to another U.S. biotech company, Protein Design Labs. Chiron, which develops products to treat AIDS, cancer, cardiovascular disease, and hepatitis, owns many similar patents.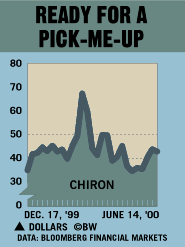 Oddly enough, McCamant expects a boost from a patent lawsuit that Chiron won in Germany. A Dusseldorf court has ruled that F. Hoffmann-LaRoche's HIV diagnostic tests infringe Chiron's patent. So Chiron is entitled to damages for Roche sales from 1993 and could stop Roche from selling the products.
McCamant has learned that Roche will soon settle and accept a Chiron license to continue selling its diagnostic products. McCamant expects Hoffmann will pay $100 million plus a fat royalty fee on sales of the licensed products.
Another fillip: On Jan. 5, 2001, Swiss drugmaker Novartis, which already owns 45% of Chiron, will be able to raise its stake. Some investors have been buying Chiron stock on the chance that Novartis may gobble up the rest.
Before it's here, it's on the Bloomberg Terminal.
LEARN MORE