Talk To Your Car? It's General Magic
by
Bob Olstein is a true-blue value investor: He buys only companies with real earnings that are selling way below their intrinsic worth. So why has his Olstein Financial Alert Fund accumulated shares in General Magic (GMGC), which last year lost $47.5 million, or $1.56 a share? He admits that it is an oddball stock for him to own, but he's confident the company will earn 40 cents a share on $150 million sales in 2003. The stock, trading at 3 1/2 in December, climbed as high as 17 in March. But, like other tech stocks, it got pounded. It is down to 5.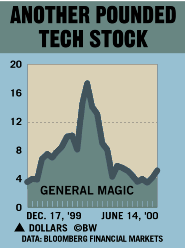 General Magic has developed voice-user interface technology for vehicles. The software lets the person at the wheel use his voice to tell the onboard computer what to do: send e-mail, fax messages, make a phone call, or gain access to the Internet.
Carmaker General Motors has taken a 22% stake in General Magic--for $15 million--with a right to buy an additional 6.7% for $5 million. Microsoft has also bought in, for a 6% stake. GM is expected to roll out certain luxury cars this summer equipped with General Magic's two-way voice interactivity and artificial intelligence, which GM has named OnStar.
Sean Reidy, research head at Olstein Financial, says that in three years General Magic's earnings will be growing at 50% a year.
Before it's here, it's on the Bloomberg Terminal.
LEARN MORE