Commentary: Warm And Fuzzy Won't Save Procter & Gamble
by
Procter & Gamble Co. employees, particularly those in management, are breathing a sigh of relief. "Crazy Man Durk"--known to the outside world as Durk I. Jager, CEO and chairman--is out, having resigned under pressure from the board. "Gentleman John" E. Pepper, P&G's CEO until 1998, and Alan "A.G." Lafley, a man known for his people skills, are in charge. Who says nice guys finish last?
Unfortunately, the elation at one of the nation's biggest packaged-goods producers is destined to be short-lived. For all his abrasive ways--and his failure, in 17 months at the helm, to bring about a real turnaround--Jager may have been the company's best hope for recovery. Without him, P&G is likely to remain an entrenched bureaucracy with the same bottom-line problems it has struggled with for a decade.
At first blush, P&G does not look like a company on the road to recovery. Jager recently conceded that he would not fulfill his promise of a 15% growth in profits for the quarter, and P&G will fall below target the next two quarters as well. And since January, shares have collapsed from $118 to $56.
NOT ENOUGH. Egged on by a short-term-minded Wall Street, however, P&G pulled the plug too soon on what could have been the company's turnaround. Jager had less than two years to implement massive changes in a rigidly structured company. That was clearly not enough.
While major brands such as Tide, Ivory, and Pampers may have shown only meager growth, Jager had some successes. The purchase of Iams premium dog food, for example, is looking like a hit. P&G took this $800 million private brand and began shipping it to its vast array of supermarket customers. Market share has grown; sales should hit $1 billion for the year ending in June. Says Jim Holbrook, a P&G alum and now president of the Zipatoni Group consulting firm: "This is a high-margin, high-turn business, and Jager saw a way to take it to the mass market."
Dog food is not the only bright spot. Jager also wins praise from otherwise critical analysts for creating global identities for his brands while still allowing local execs to determine marketing tactics. The practice is showing some promise in North America. In recent months, P&G has won back market share in hair care, detergent, and toilet paper lines. "He changed the company from one that was inwardly focused on cost efficiencies to one outwardly focused on gaining global market share," says William Steele, an analyst at Banc America Securities.
To achieve this, Jager, confronting a roster of old-line, slow-growing products, became almost obsessed with new-product development. He ramped up R&D, cut in half the time it took P&G to introduce new products, and doubled the rate of launches. It took Jager's P&G 18 months instead of the typical three years to launch Swiffer, its electrostatic dust mop. The first year out, P&G sold a stunning $400 million worth.
All this required Jager to attack what is probably P&G's most serious problem: its entrenched, risk-averse culture. He torpedoed the old-fashioned international network of 144 regional managers and reorganized the company into seven global business units built around product lines. That process broke up decades-old fiefdoms and gave P&G the ability to respond more quickly and efficiently to global trends. The move was praised by customers such as Wal-Mart Stores. He also encouraged managers to leave behind the company's traditional consensus management, to be more innovative, and to take more risks.
Unfortunately for Jager, the benefits of this restructuring have not worked their way to the bottom line yet. The investments in acquisitions, research and development, and marketing of new products all hit earnings hard. To counterbalance all the spending, plans to cut 15,000 jobs and close 10 plants were in progress. But they were not expected to produce savings until 2001. In the face of his extensive cash outlays, however, Jager made a major error by promising Wall Street double-digit earnings gains by this spring. It was the second time in his short reign that he failed to meet expectations--unforgivable by today's market standards.
Some of this might have been overlooked if Jager had been a different man, certainly if he had been a different leader. He didn't play up to Wall Street analysts or investors, and his abrasive style cost him support from managers and rank-and-file employees. Many of them have the added power of being company stockholders.
"BY YOUR SWORD." In the consensus-building atmosphere of P&G, lack of popular support is the kiss of death, says John Bissell, a former P&G brand manager now at Gundersen Partners, a management consulting firm. "If you are a well-liked member of the management community, you're given some leeway if you make a mistake or two," he says. "But if you are disliked and people are rebelling under your leadership, you live and die by your sword."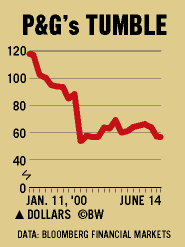 By the end, the combination added up to a corporate rejection of Jager and everything he stood for--even to the most petty detail: While other ex-chiefs such as Edward Arnst and John Pepper maintained offices at Cincinnati headquarters, Jager will get no such perk. The P&G Establishment wants him gone. With him will go much of the change that could eventually have made a difference.
Now, P&G is in what can only be described as retreat. Lafley has already said the company changed too much, too fast, and he plans to reverse the trend. A dozen new product launches already on the calendar are being reconsidered, he says. Pepper--who stepped aside two years ago when management decided new, tough changes were called for--is also back. But revisiting the good old days of the 1990s at P&G isn't much of a formula for growth either.
Before it's here, it's on the Bloomberg Terminal.
LEARN MORE