Australia: There's No Slowdown Down Under Yet
by
A surprise growth spurt in the first quarter indicates that Australia's hoped-for slowdown has yet to arrive. That raises the likelihood of more interest-rate hikes by the Reserve Bank of Australia.
Real gross domestic product grew by 1.1% in the first quarter from the fourth, and 4.3% from the year before (chart). Consumer and business spending rose much faster than expected. Job growth remains robust, and the unemployment rate slipped to 6.7% in May, equaling the 10-year low hit in February. That could explain why consumer confidence bounced back in June, the first increase in five months.
Later this year, Australia's economy will get boosts from three special factors. A new consumption tax may cause some pre-emptive spending before its introduction on July 1. An income-tax cut, also due in July, will increase household buying power. Last, the 2000 Sydney Olympics in September could add a full percentage point to real GPD growth in the third quarter, calculate economists at J.P. Morgan & Co. Given the unexpectedly large gain in the first quarter, the economy could grow above 4% in 2000, close to 1999's 4.3% advance.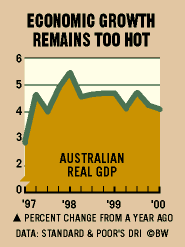 In order to curb price pressures building in such a hot economy, the RBA has hiked short-term interest rates by 125 basis points since November. Despite good productivity gains, consumer prices were up 2.8% in the year ended in the first quarter, faster than their 1.2% pace in the year before.
In addition, the RBA must focus on the Aussie dollar, which has weakened as funds have flown out of Australia and into the U.S. as the Federal Reserve lifted U.S. rates. The Aussie hit a 20-month low, equaling 56.8 U.S. cents, on May 17. Amid growing signs of a U.S. slowdown, the Aussie has since recovered. But at 59.7 U.S. cents on June 13, the Aussie is still down 9% so far this year.
The RBA left rates on hold at its June 6 meeting. But with growth still strong, the central bank may feel compelled to move rates higher again this summer.
Before it's here, it's on the Bloomberg Terminal.
LEARN MORE