U.S.: A Soft Landing Ahead Or Still Climbing?
Wall Street, look again: Behind jobs data lie signs of future strength
by
Signs that the economy was coming off the boil in the second quarter had already been sighted: Retail sales, factory orders, car buying, and housing all cooled off considerably this spring. Then came the shockingly weak May employment report, which galvanized sentiment on Wall Street and among many economists that the long-awaited economic slowdown is here.
But is it? To be sure, the recent data strongly argue that second-quarter economic growth will be considerably tamer than the red-hot 6% clip of the previous three quarters. But will the slowdown last through the second half of the year? And will it be deep enough to ease the Federal Reserve's concerns about inflation? On these crucial questions, the jury is still out.
One problem is that many of the softer-looking data lack corroboration from other related indicators. The near-record level of May consumer confidence, along with the recent stock market rally, hardly argue for a major pullback in consumer spending, even if recent retail sales are weak. The trend in mortgage applications this spring is up sharply, despite lower home-sales figures in April. And surging exports and a huge backlog of unfilled orders hardly suggest any lasting weakness in factory production.
The biggest anomaly, however, is the job data. May's low level of new claims for unemployment benefits, along with the latest Manpower Inc. survey showing increased hiring plans, suggests continued strength in the labor markets. That's why the May job data are just plain wacky. Taken at face value, they describe an economy that suddenly fell into a recession (chart).
As long as strong labor markets and wealth gains remain key props under consumers, then household spending will be strongly supported. So even though the economy has slowed this quarter, the likelihood of a reacceleration in the second half remains high.
ANOTHER BIG PROBLEM for the Fed is that the economy has exceeded its noninflationary growth limit for several quarters. That means that the level of demand may be above what the economy can produce without generating cost pressures. As Fed Governor Laurence Meyer said on June 6, the Fed must decide "whether slowing the economy to trend alone will get the job done or whether we need a period of below-trend growth." In other words, a slowdown to the 3.5%-4% pace that the Fed believes to be sustainable may not prevent a continued upward crawl in inflation. Instead, growth may have to slow to below 3.5%--and for a few quarters--in order to loosen up the labor markets and relieve upward pressure on wage growth.
Since the labor markets remain the Fed's main focus, a true picture of what's happening there is crucial to the outlook for Fed policy--and the economy. Unfortunately, the May job report is unusually blurry. Based on the Labor Dept.'s survey of businesses, private-sector payrolls fell by 116,000 employees, a drop that has occurred previously only due to a strike or a recession. Labor's separate survey of households showed that employment plunged by nearly 1 million workers, the largest drop in the postwar era. Oh, really?
There's more. Overall hours worked in May fell 0.6%, a decline exceeded in only two other months during this nine-year expansion, both due to special factors. The same is true for the 1.9% plunge in hours worked in manufacturing. Chances are high that the small 0.1% rise in hourly earnings is understated as well.
BECAUSE SO MANY NUMBERS are tied to the employment data, government reports in coming weeks will show signs of a slowdown--and other Fed-friendly results. Since the data on hours worked heavily influence the industrial production report, May output and capacity use are sure to fall. May personal income will look weak, and the index of leading indicators, which includes the factory workweek, will be negatively affected. Also, second-quarter productivity growth, measured as output per hour worked, will be exaggerated to the high side by the weakness in the hours data.
What the employment report suggests as well is that much of this quarter's slowdown is simply "payback" for special factors that helped to lift first-quarter domestic demand to its fastest growth rate in 16 years. For instance, dealer incentives boosted vehicle sales, which then slipped back this quarter (chart, page 41). And gains in construction jobs, which are highly weather-sensitive, averaged 58,000 per month in the mild winter of the first quarter, far above the 25,000 monthly average of 1999. When weather returned to a more seasonal pattern, the seasonally adjusted data showed that jobs fell 34,000 in April and 29,000 in May.
Another anomaly: Retail employment rose by 176,000 in April, the second-largest increase in the postwar period, only to fall off by 67,000 in May, the largest drop in this expansion. The swing mainly reflects a quirky gyration in restaurant payrolls.
The trend in overall job growth in recent months is closer to the real picture of the labor markets. Even with the big May drop-off, private-sector gains have averaged 182,000 jobs per month so far this year. If maintained, that rate is sufficient to keep the unemployment rate heading downward, as opposed to rising as it did in May, to 4.1%, from 3.9% in April. Even in the past three months, gains still averaged a similar 185,000. Given the May distortions, June jobs are likely to rebound strongly, restoring the perception that job markets remain very strong.
ONE AREA WHERE payrolls may not bounce back is the manufacturing sector, which has been shedding jobs for more than two years, including 17,000 in May. That has occurred even though gains in output of business equipment and autos early this year have boosted overall manufacturing activity, and the National Association of Purchasing Management said that the industrial sector continued to expand in May. True, the increase was at the slowest rate in more than a year, but the May purchasing managers' index of 53.2% is still consistent with economic growth of 3.8%.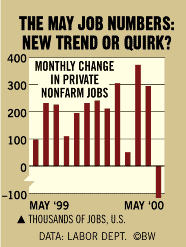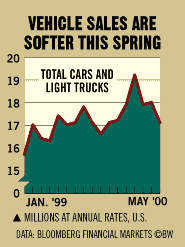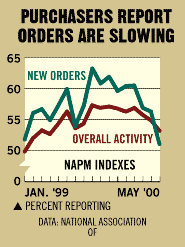 One sign of future activity, orders, did show some weakness compared with earlier in the year (chart), but the softness was all homegrown. The purchasers said export demand rose to its highest level in three years. In fact, a stronger global economy in the second half could complicate the Fed's desire for a soft landing in the U.S., especially if foreign currencies strengthen at the expense of a weaker dollar and a slower flow of capital into U.S. markets.
A more immediate complication: Now that the financial markets believe that the economy is slowing, lessening the likelihood of more Fed tightening, stock and bond prices have rallied strongly. New financial stimulus is one thing that could easily bring this economy back to a boil.
Before it's here, it's on the Bloomberg Terminal.
LEARN MORE