Germany: A Growth Spurt May Be Ahead
By
Germany's economy, although still restrained by weakness in consumer spending and construction, is nevertheless gaining momentum, as is the entire euro zone. So much so that the Organization for Economic Cooperation & Development has revised its 2000 forecast for euro-zone growth from 2.8% to 3.5%, the fastest pace in a decade.
In Germany, exports and business investment are powering growth right now. But following the pattern already evident in France, German consumers--and domestic demand generally--will contribute more as the labor markets improve. April factory orders rose for the third month in a row, with a big gain in domestic bookings.
Real gross domestic product in the first quarter rose 0.7% from the fourth quarter and 2.3% from a year ago. That's the same yearly pace as in the fourth quarter, but up from the 0.7% crawl this time last year. Exports soared 13% from a year ago, fueled by better world growth and a competitive euro.
More important, capital spending is speeding up, helped by the recent pickups in profits, orders, and business confidence, which was at a nine-year high in April. A key machinery-industry group recently revised up sharply its 2000 production outlook.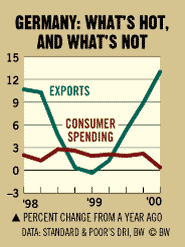 Clearly, the biggest drag on Germany's economy will continue to be construction, an artifact of post-unification overbuilding. Weak demand in eastern Germany, along with higher interest rates and real estate prices, will extend the malaise into 2001, says a Berlin research institute.
For now, though, the key difference between France's 3.3% growth rate and Germany's 2.3% pace is the consumer sector. Private consumption actually fell from the fourth quarter and was up only 0.9% from a year ago. However, the supports under consumer spending, while far from robust, did not suggest such a weak performance. Many economists expect a bounce in second-quarter spending. And as German growth broadens, look for Germany's growth rate to catch up with France's by yearend.
Before it's here, it's on the Bloomberg Terminal.
LEARN MORE