Fat City For The States
But with new spending and tax cuts, cushions are thin
by
It's fun to be a governor these days and watch the money roll in. Flush with New Economy dough, the states have enjoyed huge increases in spending and massive tax cuts over the course of seven fat years.
Indeed, it's hard to imagine cities and states being any better off. According to preliminary estimates by the Nelson A. Rockefeller Institute of Government in Albany, N.Y., overall tax revenues for January through March rose by more than 9% from a year earlier. And personal income taxes have soared beyond the wildest dreams of budget analysts, thanks to the stock market boom, rising employment, and wage increases. In the first quarter of 2000, income-tax revenues leaped an amazing 13%. "States seem to be defying gravity," says Arturo Perez, senior policy analyst at the National Conference of State Legislatures (NCSL).
But there are a few hints that the party may be coming to an end. After six interest-rate hikes by the Federal Reserve, the economy seems to be slowing. If it does, the flow of revenues--especially from income taxes--could dry up. For the first time in years, governors and legislators may need to start watching their wallets. Warns Donald J. Boyd, director of the fiscal studies program at the Rockefeller Institute: "The combination of rate increases and a slowing economy makes it likely that you'll see much less generous policies in the future."
If the economy dips into recession, state budgets will really be squeezed. According to a new study by the Center on Budget & Policy Priorities, a Washington think tank, few if any states have adequate reserves to support current spending levels if the country experiences a mild recession similar to that of 1990-91. The current pattern won't "be sustainable in a downturn," warns Bob Zahradnik, one of the study's authors.
SURPLUS LESSONS. The underlying problem is that state governments are highly vulnerable to the ups and downs of the economy. When their revenue goes down, they can dip into rainy day funds. But once those are spent, they must immediately cut spending or raise taxes. Unlike the federal government, they're not allowed to run budget deficits. On the other hand, when times are good and revenues are strong, as they are now, it's politically difficult for state governments to stash away too much of the excess. The public doesn't like to pay taxes that simply get put in the bank. Two decades ago, the California tax revolt was set off when Governor Edmund G. "Pat" Brown insisted on building a surplus rather than cutting taxes. And governors have never forgotten the lesson.
For now, states are devoting the vast majority of their windfalls to either cutting tax rates or increasing spending. Last year, 19 states approved major tax reductions, worth $7.6 billion. Nine others adopted one-time rebates, worth a further $3.7 billion. Already this year, states such as Illinois, Michigan, and Minnesota have cut taxes.
Even more of the money is going for spending hikes. According to the National Association of State Budget Officers, 45 states boosted spending this fiscal year, and overall expenditures are likely to rise about 5.5%. That's on top of even bigger hikes in each of the last several years; altogether, general fund spending is expected to top $492 billion this year, a 49% jump over five years ago. "We've seen increased spending on everything from education and health to a massive public-works program," says Charles N. Wheeler III, a political analyst at the University of Illinois at Springfield.
Schools are getting most of the new money. Education accounts for nearly half of all state spending--and in '99, elementary and secondary costs were up more than 7%. Indeed, over the past seven years, overall school spending has increased by 55%, to $180 billion. Teachers are getting raises, class sizes are shrinking, and training is increasing. Says Jane Hannaway, director of the Urban Institute's Education Policy Center: "The public thinks it is important to invest in education. Business is clamoring that something has to be done. There's an increased confidence that the money is being well spent."
SPENDING SPREE. Where else is the money going? In '99, spending for colleges and universities rose by 6.5%, prisons by about 4%, and Medicaid by about 4.6%, according to the NCSL. Another big winner: transportation. After stagnating in the '80s and early '90s, spending for highways and mass transit is up by more thlion in one-time school spending, and $2.4 billion in salaries and other ongoing education funds. But Davis' most controversial plan is to abolish the state income tax for all K-12 public-school teachers. Price tag: $545 million.
It's hard to say how much of the new spending is worthwhile. Surely some catch-up pay hikes are warranted. According to the Labor Dept., from 1991 to 1998, state and local workers received an average annual raise of 2.9%, compared with 3.3% among comparable private-industry woh of it and returned more in tax cuts, surpluses are shrinking. At the end of fiscal 1998, states had $35.4 billion on hand, or 9.2% of spending, according to an estimate by the state budget officials. This year, the total sum on hand is expected to drop to $27.4 billion, or 5.6% of spending. In Texas, for example, "the state will once again be looking at a surplus, but it will be dramatically smaller than last year," says Bill Allaway, president of the Texas Taxpayers & Research Assn., a business lobby group.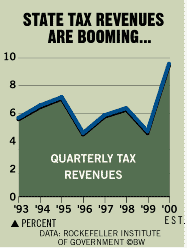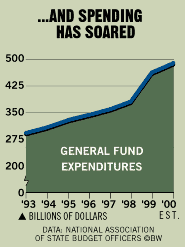 DIGGING A HOLE. Things could be even worse in Massachusetts, which boasted an impressive $1 billion surplus in 1998. After seven years of tax cuts, the commonwealth's fiscal cushion is thin. Massachusetts was supposed to end this fiscal year with a surplus of $500 million. But Jim St. George, executive director of the private Tax Equity Alliance for Massachusetts, says nearly all of that projected black ink will have to be pumped into the Big Dig--Boston's over-budget highway project. Next year, new education and health-care spending, combined with the tax cuts, will drive the surplus down to a mere $21 million, or 0.1% of total spending. If another round of tax cuts goes through, Zahradnik predicts that Massachusetts' deficit in case of a recession would hit nearly 25% of spending.
For now, of course, there is no recession in sight. And states and cities are about to enjoy another windfall. Starting this year, the massive tobacco-company settlement negotiated in 1999 will generate a further $6 billion to $8.4 billion a year for the next 25 years. But it's only human nature for people to regard each fresh windfall as a birthright. And when the economy does slow, the gusher of tax dollars will surely diminish. The result may not be the proverbial seven lean years, but for cities and states, the glory days may be coming to an end.
Before it's here, it's on the Bloomberg Terminal.
LEARN MORE