Chen Takes Heat Over A Nuke Plant...And Lots More Green Issues Loom
Mike Clendenin
While loudspeakers blare antinuclear rhetoric behind her, Lin Yi-xuan hands out postcards at a protest on a sweltering Taipei afternoon. On the cards is a picture of Taiwan's President, Chen Shui-bian, standing next to a placard that says: "Oppose the Fourth Nuclear Power Plant." Taken a few months before his narrow victory in March, the snapshot shows his signature on the placard, and the usually charismatic politician looks uncertain, as if wondering whether the pledge might come back to haunt him. It has. "He should keep his promise, but I don't think he will," Lin says. "We won't let him forget it."
Taiwan's fledgling green movement is up in arms over hints that the controversial $5.6 billion project, situated just 40 kilometers from Taipei, may not be scrapped after all--even though the new President belongs to the Democratic Progressive Party (DPP), an environmentally friendly party with an antinuclear platform. According to state-owned Taiwan Power Co., the plant, proposed 20 years ago by the former Kuomintang (KMT) administration, is already 31% complete and would produce 2,700 megawatts when finished, or about 7% of the utility's power. Taiwan Power officials say it has spent $1.4 billion and signed contracts for $1.4 billion more, of which at least $819 million would have to be paid if the project is scuttled.
In the battle for public support, Taiwan Power and the former government have rolled out many other reasons to complete the plant, the most compelling being that the island's energy consumption will double by 2020. "From time to time, I remind our critics that this is a small island with 22 million people who want a high living standard," says Yu Sheng-hsiung, director of the utility's Nuclear Communications Commission. "It's easier to comment than to implement some real solution."
Taiwan imports over 90% of its raw energy, mostly in the form of coal and oil, two fossil fuels that undermine the island's attempt to reduce carbon-dioxide emissions. The government is slowly boosting its use of cleaner fuels such as liquefied natural gas, yet it accounted for only 6% of Taiwan's power in 1998 because it's relatively costly. Nuclear energy accounts for 9.7%.
WASTE NOT. Greens don't agree that more nuclear power is necessary because there aren't any cheap and clean alternatives. They claim that the island's increasing reliance on nukes stems from the old KMT government's support of energy-guzzling industries. "Many people talk about the supply and sources, but very few talk about management," says George Cheng, CEO of Taiwan Watch Institute, an environmental think tank. He and others argue that if Taiwan Power focused on energy conservation and upgraded its equipment, enough could be saved to offset canceling the Fourth Nuclear Plant.
The Chen government has ordered a halt to tendering new contracts while the plant is "reevaluated." Everyone is anxiously awaiting the results, expected by September. "If the evaluation shows that we need the plant, we'll get heat," says Lin Yi-hsiung, who recently retired as DPP chairman. He may find himself in an awkward position personally: Back in 1994, he went on a six-day hunger strike to stop the plant.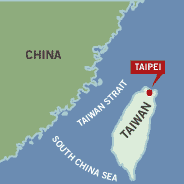 If the Chen administration survives its first environmental test unscathed, other pitfalls lie ahead. Foremost on the list is the building of the Meinung Dam in southern Taiwan. The KMT government said the dam is needed to meet residential and industrial demands for clean water in the south. But it's also expected to flood Yellow Butterfly Valley, which has one of the highest densities of butterfly species in the world. Although Chen is wavering on his nuclear promise, environmentalists remain optimistic that the Meinung project will get the ax. "The dam is dead. It will be stopped," says Wang To-far, an economics professor and former chairman of the Taiwan Environmental Protection Union.
Nevertheless, activists remain ready to defend Taiwan's rapidly disappearing natural treasures, such as the Chiku wetlands, a winter habitat for endangered birds. "I'm not naive enough to think that just because the DPP has power, everything will be fine," Wang says. He'll keep the protest banners and picket signs handy, just in case.
Before it's here, it's on the Bloomberg Terminal.
LEARN MORE