The Netherlands: Just Taking A First Quarter Breather
by
Don't let the skimpy first-quarter gain in the Dutch real gross domestic product fool you. The Netherlands economy remains one of the strongest in the euro zone.
Real GDP rose just 0.6% from the fourth quarter. Compared with the previous year, real GDP in the first quarter is up 4.2%, vs. a 4.6% advance in the fourth quarter. But the weakness stems from an inventory drawdown after businesses hoarded goods at the end of 1999 in anticipation of Y2K problems.
Thanks to labor-market reforms since the mid-1980s, Dutch fundamentals remain strong and should support expected GDP growth above 4% this year, compared with 3.8% for the euro zone.
Certainly, the monthly data show momentum in the Dutch economy. After January weakness, industrial production in February and March averaged a 7.8% increase from the year before. And shipments shot up 14.9% for the first quarter. Foreign trade has been in near-balance for almost a year as both exports and imports soared. The March trade surplus totaled $2.3 billion.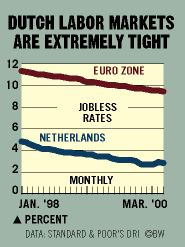 Also, consumer spending in March rose 4.8% from the year before, led by solid advances in food and beverages and in durable goods. Consumers should power growth this year. A rising stock market has lifted household wealth. Strong labor demand has cut the jobless rate to an enviable 2.8% compared with 9.4% for the euro zone (chart). And low inflation--with consumer prices in April up just 2.1% from the previous year--means real buying power is expanding.
Keeping inflation low is a key challenge. With labor markets so tight, wage gains are expected to rise faster than productivity this year. And Dutch service inflation is already running above the euro zone average.
The inflation threat is why the Netherlands should benefit from the European Central Bank's tightening moves. The ECB left short-term interest rates alone at its May 25 meeting. But expectations are growing for a rate hike at the June 8 confab.
Before it's here, it's on the Bloomberg Terminal.
LEARN MORE