The Bull Is Only Taking A Siesta
Equities are finally looking more reasonable--and profits are still going strong
Marcia Vickers
The bears are having a blast. Calling the end of the bull market, they've pulled out their "Dow 9000" T-shirts and are spouting such sayings as "You can't fight the Fed." Their biggest arguments: Inflation continues to increase, valuations of many stocks are still too high, and trading volume is relatively low--which they say always indicates a bear market.
Despite the May 30 rally, there's no disputing that the market isn't pretty. The Nasdaq Composite Index is down a gut-wrenching 33% from its high on Mar. 10. The Standard & Poor's 500-stock index and Dow Jones industrial average are down 7% and 10%, respectively, from this year's highs. And though many anticipated a "relief" rally after the Federal Reserve raised interest rates by a half percentage point, to 6.5%, on May 16, just the opposite happened, with the S&P 500 falling 3% since then. What's more, trading volume continues to sink as investors are paralyzed by fear of further rate hikes and an uncertain market.
SLOW LEAK. So, are the bears right, and is this really the end of the bull? Not likely. For starters, it appears the Fed's six rate hikes since last June have finally begun to slow the economy. Moreover, while stock prices have plunged, profits continue to percolate, bringing valuations down. The average price-earnings ratio for the S&P 500 on a trailing basis has shrunk 15%, from a January high of 33 to a more comfortable 28. Also, although volume may be light, some argue that is good for the current market environment.
"Low volume means that there's been a tempering and washing out of overenthusiastic optimism for many of these stocks," says Charles Pradilla, chief investment strategist at SG Cowen Securities Corp., who adds that climactic volume coupled with bad news in a very illiquid market could easily lead to panic. "This is more like slow air leaking out of a basketball. It's not popping everyone's eardrums, people just don't want to play as much."
Daily volume on the Nasdaq and Big Board plummeted 25% and 18%, respectively, in the past month alone. Still, volume is now where it was in the peak days of 1999, suggesting that the surge in activity from November until mid-March was little more than a trading bubble, and investors are now seeing a more rational, predictable market.
In fact, Richard McCabe, Merrill Lynch & Co.'s chief market analyst, notes that some of the heaviest trading occurred in late March and early April when the stock market was in deep decline, meaning that investors were in a selling frenzy. Since then, the market has retested those lows, most recently on May 23, when the Nasdaq fell to a year-to-date low of 3,165, 37% off its 52-week high. On that day, trading was notably low--55% off its April high. "Light volume on a retest of a low shows the downside pressure isn't picking up again," says McCabe.
In fact, in mid-April there were over 500 stocks making new lows--primarily small-caps, biotechs, and Internet stocks. But on May 23, only 330 stocks did so, implying that "a lot of stocks are now holding," says McCabe. Among those 330: a number of blue-chip tech stocks, such as Qualcomm and Sun Microsystems, which fell 56% and 32%, respectively, from their 52-week highs. "When strong stocks go down last, that often points to the end of a corrective phase or a market bottom," says McCabe. McCabe goes one step further. He says that the Nasdaq may be oversold enough to stage a sustainable rally in the next month or two.
In the meantime, tech investors, typically among the most exuberant, are realizing that even blue-chip techs aren't immune to higher rates. They are sitting it out or rotating into such defensive stocks as consumer staples, basic industry, and health care. "Although defensive stocks aren't as exciting as the technology stocks, they're in areas where investors seem to be choosing to park their funds until the storm abates," says Ralph J. Acampora, chief technical analyst at Prudential Securities Inc.
PURGE. That storm, largely dependent on rates, could be abating. Despite recent reports of robust consumer confidence, some strategists say the economy is slowing, perhaps leading the Fed to moderate its tightening. New home sales sank in April to their lowest in five months, and income growth is stemming. Some on Wall Street, such as Merrill Lynch chief economist Bruce Steinberg and Donaldson, Lufkin & Jenrette Inc.'s Thomas M. Galvin, think the Fed will raise rates an additional 25 or 50 basis points at the end of June and end its tightening. "Bulls like us believe that higher interest rates and shrinking money supply are already slowing the economy and, as a result, 50 basis points or less are left in the Fed's anti-inflation gun," says Galvin. Many think a 50 basis point hike is already priced into the market.
Some near-term events could also point the way toward fewer rate increases: tepid retail sales figures on June 13 and stabilizing commodity prices. The last one looks good: Although gas prices have risen sharply in recent days as the summer travel season begins, experts say the price of oil is likely to fall as much as 18% over the next three months. "Prices at this level aren't sustainable. OPEC will likely ease supply to bring prices down," says Michael Rothman, director of energy research at Merrill Lynch.
In the meantime, many investors are re-evaluating their portfolio strategies. "Now that the excesses have been purged, investors are being forced to re-evaluate risk," says DLJ's Galvin.
Indeed, he says that many investors already have sold what they're going to sell and are now stockpiling cash. One sign: Flows into equity mutual funds have fallen dramatically. As of May 26, $15.4 billion had gone into equity funds, versus a monthly average of $41 billion for the first four months of this year, according to TrimTabs.com Investment Research. What's more, taxable bond funds suffered net redemptions of nearly $20 billion in the first quarter. "You have to think there's a lot of cash out there and that investors are waiting to deploy it," says Galvin.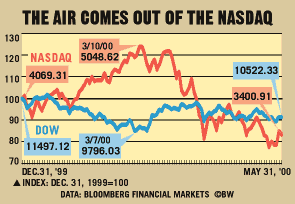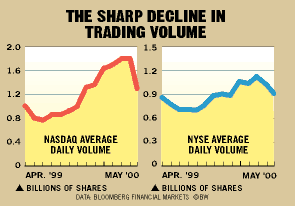 Until the Fed backs off, however, investors are likely to keep waiting. Moreover, strategists say they expect a "sideways" market--a low-volume market stuck in a trading range and marked by a handful of "blow-off" rallies with no staying power. That's because of two opposing forces at play: a slower but still robust economy propelling earnings growth and inflation worries. Year-over-year first-quarter profits are up 24%, dwarfing the 15% estimate. Also, first-quarter positive earnings surprises are the highest ever, with 70% of companies beating estimates, says I/B/E/S Inc. And second-quarter profits are expected to rise 19%. "We won't have these earnings to focus on until July, so until then it's all about interest rates," says Bernie Schaeffer of Schaeffer's Investment Research in Cincinnati.
So what's the best advice in this market? Wait it out, make no rash moves. And especially, don't pay much heed to the bears' platitudes or what their T-shirts say.
Before it's here, it's on the Bloomberg Terminal.
LEARN MORE