CATEGORY: GOLD
-- BMW K1200 LT MOTORCYCLE
-- Designer: BMW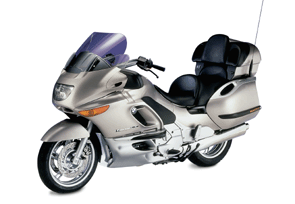 In the age of the Internet, it's comforting to see that the machine aesthetic is alive and well. BMW's luxury K1200LT touring motorcycle boasts advanced engineering technology, raw power, and elegant form. This is the top of the line for BMW's motorcycle series: luxurious while fast--very fast.
The bike's body design and architecture accentuate the length of the cycle and the passenger space in it. The "pilot," as BMW calls the driver, operates in a clean, functional "cockpit" that is closed off from road noise through an innovative interior cover. If you want them, you can get an onboard computer and sound system. A "body bumper" system divides the upper and lower halves of the vehicle, protecting the motorcycle from parking-lot tip-over accidents. All for $16,900.
Before it's here, it's on the Bloomberg Terminal.
LEARN MORE