No Cakewalk At Sara Lee
The incoming CEO has a new plan--but will it suffice?
Joseph Weber
Even though he admits to smashing up "more than a couple" Formula One race cars before he quit driving them a decade or so ago, C. Steven McMillan has never shaken his liking for speed. That's why he still pilots cigarette boats off the Florida coast from time to time. And that may be why he is launching an overhaul of Sara Lee Corp.--complete with a sell-off of units accounting for about 20% of the company's $20 billion in sales--a full month before he takes over as the Chicago outfit's CEO. Argues the Texas-born manager: "There's obviously no logic to waiting."
But McMillan may still not be moving fast--or decisively--enough in refashioning Sara Lee. Just over two years ago, the company's stock vaulted to nearly $32 a share on news of an earlier restructuring gambit. Since then, however, it has tumbled fitfully, dropping below $14 this past March. And on the May 30 news of McMillan's "reshaping," jaded investors barely nudged the stock, moving it 31 cents a share to just under $19. "It was somewhat, I guess, underwhelming," says Eric R. Katzman, food analyst with Merrill Lynch & Co.
Indeed, McMillan didn't have much choice but to lay out his game plan before July 1, when he'll take over from longtime chief John H. Bryan. The incoming chief paired news of the overhaul with a warning to analysts that earnings growth would drop from expected high single-digit percentages to the "mid-single" digits in the next fiscal year because of European currency problems. McMillan counted the muted market reaction as a win for Sara Lee, saying "usually if you have something that's not right on target, you get hammered."
Still, he faces a stubborn show-me attitude among investors. They fret that his plans to spin off via initial public offerings a couple of Sara Lee's more successful operations--the trendy $550 million Coach leather goods unit, and the $2.7 billion PYA/Monarch food-service distribution outfit--will take a long time to unfold. First, the IPOs are not even slated to happen till yearend, and then he'll only sell stakes of roughly 19.9% in each. He's currently considering disposing of the rest of the operations' equity in somewhat novel stock-for-stock swaps with Sara Lee investors, over an 18-month stretch.
Analysts do say these "split-offs" will cleverly unlock values hidden in Sara Lee's conglomerate matrix. The deals' structure will avoid potentially stiff capital gains taxes for the company and for shareholders. That means they'll produce more cash for Sara Lee than would a straightforward sale. "It is an innovative way to buy back stock and give shareholders choices," says Prudential Securities analyst John M. McMillin.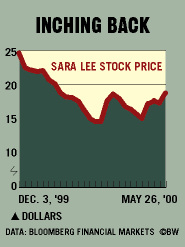 TOO LATE? For nearer-term payoffs, the CEO-designate is betting on the out-and-out sale of the struggling $500 million Champion athletic apparel operation and the $400 million fabrics manufacturing unit of Courtaulds, a British apparel-maker that Sara Lee recently bought. Between those sales and his IPOs, McMillan expects to earn $2.5 billion. His aim then will be to goose growth with more acquisitions. Already on May 30, he announced the purchase of the Uniao coffee business, which is Brazil's largest producer; the Sol y Oro intimate apparel and men's underwear company in Argentina; and a minority stake at home in the Johnsonville Sausage Co., the No. 1 U.S. maker of fresh sausage. But any new units will be in Sara Lee's newly defined core areas of food and beverage, intimate apparel, and household products. "You can argue that this is too late, but you can't argue that this is too little for a first move by a new CEO," says analyst McMillin. "These are meaningful first steps."
And there is more. With 24 years at the company under his belt, McMillan is well aware of how costly Sara Lee's decentralization has been. For instance, it has led to 10 separate meat businesses, each with its own management and individual sales force. As CEO he'll cut out the redundancies.
How long investors will give him to rev things up is uncertain. Then again, this may be where his appreciation of speed comes in handy.
Before it's here, it's on the Bloomberg Terminal.
LEARN MORE