CATEGORY: GOLD
-- ORANGEX OJEX MANUAL JUICER
-- Designer: Smart Design for Orangex
It isn't digital. It doesn't connect to the Internet. It isn't light enough to carry around in your pocket. But the Orangex Ojex Manual kitchen juicer is a thing of beauty, a purveyor of sweetness, and a marvelous story of the power of design in a global economy. Venezuelan owners of a foundry that made cast-iron plumbing parts and big restaurant juice presses turned to Smart Design in New York for help in cracking the U.S. household market. (Earlier, Smart had devised the original Oxo line of kitchen implements.)
The designers took the commercial citrus press and inverted the crank mechanism to save room, elongated the lever to increase pressure on the oranges, cut the number of parts, and gave the product a fresh look, using glass and a nonslip, ergonomic handle.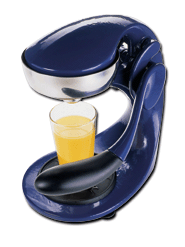 Smart also went down to the foundry and used workers' ideas in the design to make assembly more efficient and less costly. "It created a whole new market for this Latin America company, saved jobs, and showed the strength of design from a business viewpoint," says juror Leslie Speer. "Also, the cast-iron juicer lasts forever." Price: $89.00.
Juice squeezed from a manual press is especially sweet because the pulp and seeds are strained out. That bitterness you taste from "fresh-squeezed" O.J. in restaurants comes from oranges being ground up in electric juicers.
Before it's here, it's on the Bloomberg Terminal.
LEARN MORE