Loanworthy Women
The SBA's loan program fades as banks put up the dough
Alison Stein Wellner
Amid much fanfare, the Small Business Administration recently released data showing that the number of SBA-backed loans to women has nearly tripled since 1992. "Women are gaining access to financing more than ever before," stated SBA chief Aida Alvarez.
But wait a minute. The number of SBA-backed loans to women peaked in 1995 and actually dropped between 1998 and 1999. What's more, women entrepreneurs' overall share of SBA-backed loans actually fell from 24.1% in 1998 to 21.8%--the lowest point in four years. So what gives? Is the SBA data good news or bad news for women seeking business loans?
It turns out that the trend is pretty good news--but not for the reason that Alvarez suggests. The SBA data indicate that women are having an easier time getting credit through traditional bank programs, says Teri Cavanagh, senior vice-president at FleetBoston Financial Corp. That's because the SBA tends to be the lender of last resort, used by borrowers unable to qualify for a traditional bank loan.
But in recent years, many banks have launched their own programs to help women qualify, including free business analysis and peer-group mentoring. And it's not just lip service. In 1998, FleetBoston set a three-year goal of lending $100 million to women entrepreneurs. In June, the bank begins a new three-year commitment to woman borrowers--this one for $2 billion.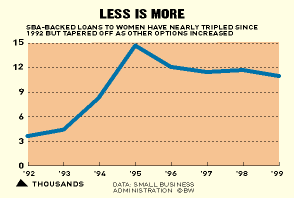 Why all the attention? A recent survey by Cleveland-based Key Bank offers a clue. "We found that men are more apt to jump for rates or price. But women business owners are very loyal," says senior vice-president Jackie Baer-Cowdery. That perception seems to be helping Debbie Naybor, owner of a 20-employee surveying business in Alden, N.Y.
In 1994, she had no choice but to go through the SBA. "I had to beg bankers to take me on," she says. Last year, when she wanted to swap her $100,000 credit line for a $150,000 loan, her banker didn't hesitate. As banks roll out more female-friendly programs, expect the SBA guarantee program to continue to fade in importance. And that will be great news for women entrepreneurs.
For more on loan programs for women, click Online Extras at frontier.businessweek.com
Before it's here, it's on the Bloomberg Terminal.
LEARN MORE