Gonzo Gear For Hard Landings
CATEGORY: GOLD
-- SPORTSCOPE FLEX-FIT BICYCLE HELMETS
-- Designers: Design Workshop and Biokinetics for Sportscope
CATEGORY: SILVER
-- MODULAR HELMET
-- Designers: Bombardier and Cross
CATEGORY: BRONZE
-- AIRFRAME
-- Designer: Fox Racing
Body armor for motocross riders isn't new. But the regular armor is heavy, hot, uncomfortable, and ugly to boot. Fox Racing's Airframe has a hinge on the back panel to allow it to move and conform to the rider's back. Using clear polycarbonate material reduced thickness and weight while allowing jersey graphics to show through (and look cool). Price: $129.95.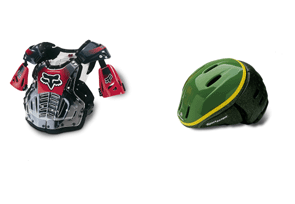 Bicycle helmets are a necessary evil, and when they are loose and move around, as many do, they can be distracting and even dangerous. The Sportscope Flex-Fit helmet is a radical new design. Instead of a single plastic shell and different-size pads inside, the Flex-Fit breaks the helmet itself into five movable segments that mold themselves to the head. Prices: $28 (toddler), $35 (kids), and $40 (adult).
Snowmobilers find their face shields fog up when they breathe into their helmets. This is especially troublesome for eyeglass wearers. The Bombardier Ski-Doo Modular Helmet is designed with a snap-on mask that bypasses the helmet, allowing riders to breathe air directly. No fogging. Price: $349.99.
Before it's here, it's on the Bloomberg Terminal.
LEARN MORE