business
Gm Guns It In Trucks And Su Vs
It's off in hot pursuit of Ford's lushly profitable lineup
David Welch
Forget about marketing ploys. With consumers still snapping up full-size pickups at a strong clip, the winner of the sales race between General Motors Corp. and Ford Motor Co. will be the company that can build the most. Profits on each pickup amount to more than $6,000--so these cash cows are proving a rich, reliable source of margins for the Big Three. This compares with profits of just a few hundred dollars on a small sedan. In recent years, Ford has led this lucrative segment. In 1999, it drew 90% of its industry-record $7.3 billion in earnings from trucks and SUVs.
GM is plotting to steal some of those profits. Although GM has been losing market share overall for decades, its truck division is a rare exception. Ford still controls 39.8% of the 2.2 million-unit pickup market, but its piece of the pie is shrinking. Last year, GM won 38.9% of sales, up four percentage points from 1998. Now the auto maker is banking on a combination of new models and added production capacity to outflank Ford's lineup of road hogs. The only roadblock to its plans: a clutch of other carmakers, lured by the sector's fat margins, are prepping new models as well.
SALES SURGE. The first leg of GM's strategy is meeting with success. GM's new pickups, launched in late 1998, are selling well, and consumers are already warming to its redesigned big SUVs. And its full-size pickup, sold as both the Chevy Silverado and GMC Sierra, has been regularly beating Ford's F-150 pickup. GM's combination of fresh design, stronger engines, better performance--and the company's ability to build more trucks and V8 engines--has powered its sales surge. Taken together, the Silverado and the Sierra have trumped sales of Ford's F-Series pickups--Ford's crown jewel and perennially the best-selling vehicle in America--for six of the past nine months. And GM is adding about 100,000 units of pickup production in the near term. This comes even though GM's models sell for some $700 more than Ford's, says Ronald L. Zarrella, president of GM North America.
New models are next. This fall, GM will launch a line of heavy-duty trucks. They will be more highly styled and will offer a range of more powerful engines, including a new diesel motor made by Isuzu Motor Ltd. The new offerings take direct aim at DaimlerChrysler's Dodge Div. and Ford, which have held GM's stake of the heavy pickup business to less than 30%, compared with the 40% it holds in the rest of the overall pickup market. But Ford isn't about to let go of its hold on this end of the market without a fight. The Dearborn (Mich.) company has scaled back production of its slow-selling Excursion super-SUV and will use the same line at its Louisville truck plant to add 35,000 units a year of Super Duty pickups.
GM is also finally challenging Ford in the market for more SUV-like family trucks, too. Ford now has the SuperCrew--a pickup with a short cargo bed and a family-size, four-door cab--and will introduce a more luxurious version, the Lincoln Blackwood, this year. GM has countered with the Chevrolet Avalanche, a sharply styled Suburban with a short pickup bed and a clever rear hatch that accommodates long cargo. It will hit dealerships in early 2001. And by summer of next year, Cadillac will offer an up-market version of the Avalanche as well.
THRIFTY. The two carmakers are neck and neck in the race to sell more trucks, but GM will be able to outbuild Ford. Whereas Ford's plants are nearly maxed out, GM is adding 300,000 units of full-size pickup and SUV production, bringing its total capacity to 1.7 million vehicles in 2001. Says Christopher W. Cedergren, an analyst at Nextrend Inc. in Thousand Oaks, Calif.: "GM has all of this plant capacity--it makes sense to build something that's hot."
GM has another edge. The engines in its SUVs and pickups get an extra mile or two per gallon. That means GM can build more trucks without bumping into federal fuel-economy mandates--and incurring hefty fines of up to $100 million.
Still, for all GM's maneuvering, its overall prospects remain unexciting. In April, its total car sales fell 2.5%, and the Buick and Oldsmobile divisions were down big-time. Worse, pressure from imported brands keeps fanning incentive battles, which cut into GM's thin margins on passenger cars.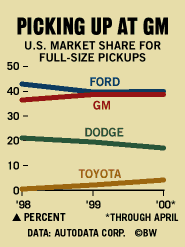 Trucks, GM hopes, will slow the decline in its market share. But that strategy will only last as long as the boom in trucks. Already, analysts say, truck demand is leveling off to 10% annual growth, vs. sales jumps of up to 18% a year during some years in the 1990s. So GM's blitz of new models and new capacity may be too much, too late.
At the same time, Dodge, along with Japan's own Big Three--Honda, Nissan, and Toyota--will crowd the market with more trucks. "Things could get bloody," says Nextrend's Cedergren. The upshot: Trucks could soon become more like cars, with lower margins and slower growth. That would cut into the huge profits that Detroit has enjoyed for so long. What then will be the next big thing?
Before it's here, it's on the Bloomberg Terminal.
LEARN MORE