About 2.3 million small businesses are now buying online, says a new study from research firm AMI Partners, but that's just the beginning. Some 670,000 small businesses already shop at online auctions. Group purchases could be next--1.3 million small businesses say they're interested in banding together to bargain.
What about selling? AMI says only 40% of small businesses think online sales matter. Most figure what they offer "can't be easily sold on the Web," says AMI's Andy Bose.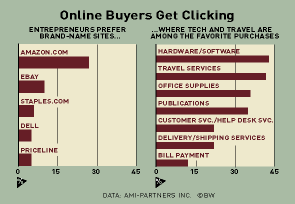 Before it's here, it's on the Bloomberg Terminal.
LEARN MORE