business
Everyday Miracles
CATEGORY: GOLD
-- VIRTUAL INK MIMIO
-- Designers: Fitch and Virtual Ink
CATEGORY: SILVER
-- COMPAQ HOME INTERNET APPLIANCE
-- Designer: Compaq Computer
CATEGORY: SILVER
-- QBE PERSONAL COMPUTING TABLET
-- Designers: WeLL Design Associates, Aqcess Technologies, and ERA Technology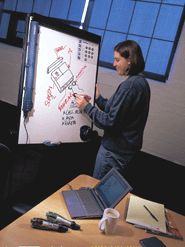 Communicating digitally is becoming pervasive in our lives. The Compaq Clipper Internet appliance has a kitchen feel to it. It is smaller, friendlier, and easier to use than the typical PC. A wireless keyboard, integrated mouse, and adjustable screen make it flexible to use--by kids, adults, or the elderly. Price: $399.
Virtual Ink takes what you write on a whiteboard and sends it to a laptop and any Windows application. Suction cups connect the stylus to the whiteboard. Stylus Tracking Technology uses ultrasonic and infrared transmitters to record notes. Price: $499.00.
WeLL Design Associates of the Netherlands designed the Qbe Personal Computing Tablet for professionals who need a wireless computer they can use while walking around. A touchscreen, microphone, and camera boost mobility, and a curve is built in so the Qbe rests on a hip. Price: $3,495.
Before it's here, it's on the Bloomberg Terminal.
LEARN MORE