Commentary: How Much Further Can The Fed Push?
Charles J. Whalen
Higher interest rates haven't taken much of a bite out of American business so far. Although the Federal Reserve has increased rates six times in the past year, business investment is still going strong. Orders for capital equipment, excluding aircraft, rose by almost 13% annually through April, just slightly down from their growth rate through March. McDonald's Corp., for example, is forging ahead with a $1.9 billion global capital-spending plan, with most of the money earmarked for opening restaurants abroad.
Can this investment boom last? For a while, probably yes. But if the Fed keeps raising rates to restrain consumers, it could end up choking off the business investment that's largely responsible for the economy's long run of high productivity growth and low inflation. According to David A. Levy, director of the Forecasting Center of the Jerome Levy Economics Institute, the risk of Fed policy triggering a downturn is real--"and people might be shocked by how fast things come undone."
Surprising though it may seem, it's not unusual that business investment has held up thus far. Corporations often commit to investments a year or more in advance. And most studies show that it takes a big increase in rates to affect investment. "A rise of a couple hundred basis points [two percentage points] isn't going to alter a major business decision," says Steven M. Fazzari, an economist at Washington University.
Fazzari and others say that businesses make investments when they have strong revenue expectations, cash available internally for investments, and a need to keep up with the latest technology. Quaker Oats Co. is moving ahead with a $115 million Gatorade plant despite higher rates because its cash flow is so strong that it doesn't need to borrow much. Nor does Rockwell International Corp. have any intention of being penny-wise and pound-foolish in the face of a huge opportunity in e-commerce: It plans to pump $15 million to $20 million a year indefinitely into its e-commerce sites, in addition to the $70 million it has already spent.
Some economists go so far as to say that the recent Fed rate hikes might even promote business investment, since they reduce the uncertainty that inflation induces. Anil K. Kashyap, a professor at the University of Chicago, argues that the best thing the Fed could do for investment is "draw a clear line in the sand against inflation."
But even economists who favor raising rates know there's a limit beyond which higher rates will discourage investment. The first to be affected are those with urgent borrowing needs. A Fed survey released on May 22 said that "banks became significantly more cautious lenders over the last three months." If rate increases continue, they could eventually squeeze investment by companies that don't need to borrow but see no point in investing if tight money is killing off customer demand.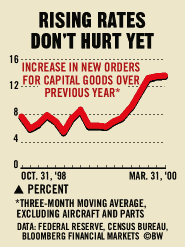 TRICKY BALANCE. That process may already be in the works. Monetary policy typically takes six months or more to begin affecting investment and has its biggest impact only after a year or two, says Mark Gertler, an economist at New York University. So the rate increases that began last summer would only now be starting to dampen investment.
Ideally, the Fed would like to rein in consumers without crimping business. Yet monetary policy is a blunt instrument. "It's virtually impossible to say you want to slow consumption and leave investment unchanged," says Chicago's Kashyap. For the past decade, the Fed has struck the right balance. Says Columbia University economist Frederic S. Mishkin: "This has been an unprecedented period for Fed policy--almost perfect." That's how it will have to remain for business investment to keep growing.
Before it's here, it's on the Bloomberg Terminal.
LEARN MORE