Ads As Far As The Eye Can See
But beyond the horizon, a dot-com drop-off
by
It's time for John Dreyer to change his reading habits. For years, the Walt Disney Co. senior vice-president of corporate communications would load up on news and business magazines when he headed to the company jet to accompany Chairman Michael D. Eisner around the country. No more. "They're just too heavy," says Dreyer, who these days is very selective about what he throws into his briefcase.
Like most folks and most media, Dreyer is suffering from ad overload. This year, advertisers are expected to increase spending a stupefying 8.3%, to $233 billion, the largest one-year jump in six years and nearly one-third higher than what was spent in 1996. Not only are magazines and newspapers fatter, but there is nary a vacant billboard or a TV or radio spot that goes wanting. But, even if those who buy and sell the ads are loath to consider the possibility, the question lingers: How long can this party last? "I don't know," says Aaron Cohen, executive vice-president of media-buying company Horizon Media. "I've never seen anything like it."
OVERFLOWING CUP. For now, a confluence of events is driving the ad market ever higher. Even as the Federal Reserve tries to put the brakes on the economy, consumer confidence is high, rising to within record levels in the most recent report by the Conference Board. That's sending everyone from retailers to auto makers scampering to ad agencies. But a host of new entrants--prescription drugmakers who recently were permitted to advertise on television and the bulging tech sector--have really made media's cup overflow. The demand "is coming from just about every sector" says Dave Long, Time Inc.'s president of media sales and marketing, fattening Time magazines from Fortune to People.
What if Alan Greenspan is successful in cooling off the economy? Some analysts like PaineWebber's Leland A. Westerfield believe ad sales will continue to grow, albeit more slowly. But some of the growth--particularly in high-flying sectors like real estate and financial services--clearly would fall victim to a significant slowdown in consumer spending. In fact, Time Inc. is already seeing domestic auto makers pull back slightly as sales growth, for the first time in two years, begins to stall.
Then, there are the volatile dot-com advertisers, who last year put a whopping $3.7 billion into the ad market, says ad tracking firm Competitive Media Reporting. That's nearly a sixfold hike from the year before. With money drying up, many dot-coms won't be around for long. While that will stifle ad growth, it will not kill it. "The dot-coms have been great for us, but they're only about 5% of our business," says Wally Kelly, president of Infinity Outdoor, the Viacom-controlled billboard company that is the country's largest. And the same is true for other media.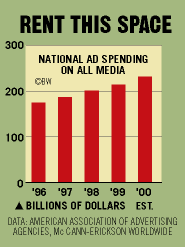 For now, however, all forms of media are bathing in advertising riches. At the just-concluded "upfront" market for network TV, broadcasters sold an estimated $8 billion worth of ads for shows airing in September, a giant 14% hike from last year. Negotiations that often take weeks were over in hours as buyers flocked to the tables--even though prices for spots were up at least 10%. Earlier, cable-TV networks also scored big, selling spots with price tags 20% higher for a cumulative $4.8 billion, up 30% from last year. "We don't like the [price] increases that we're seeing," says Arthur C. Liebler, senior vice-president of marketing for DaimlerChrysler Corp., "but it's an important part of our overall media mix."
Just how much shilling can the American public stand? Many media outlets are looking for more ways to inundate, not fewer. As movies have done for years, some TV networks are now experimenting with placing products in their shows and charging manufacturers for the service. Turner's Cartoon Network recently got premiums from Nintendo for selling the game maker a coordinated spot on the cable network and its Internet site. For now, there seems to be no end to what advertisers will spend--or what media will sell.
Before it's here, it's on the Bloomberg Terminal.
LEARN MORE