Sony Slides Into A Slump
Suddenly, sales, shares--and the future--look lackluster
Irene M. Kunii
Sony Corp.'s Nobuyuki Idei has always preferred the view out ahead. While he faced a major restructuring job when he became president five years ago, it's innovative products such as the sleek Vaio notebook personal computer that set the tone at Idei's Sony. Every chance he gets, the 62-year-old Idei spreads the word about Sony's future as an Internet company: Everything from the venerable Walkman to the popular PlayStation game console will soon connect to the Web.
It's an enticing vision, and for a time investors bought into it. Sony's stock, after tripling last year, hit a record high of $152 on Mar. 1. Three days later, Sony rolled out the long-heralded PlayStation2. That proved the most successful console launch ever: Sony sold 980,000 PS2 units in the first three days in Japan. Plenty to celebrate, right?
Plenty to worry about is more like it. In one market after another--films, PCs, mobile communications--Sony is suddenly looking lackluster. Even Sony Computer Entertainment Inc., the video-game unit that has spawned the PlayStation, now faces formidable competition from Microsoft Corp., which is about to invade the game market. Amid all this, look at the share price: It's off 40% since its peak, to $89 on May 24. And there's no great turnaround in the offing. "Sony doesn't have anything to argue the stock back up," says Masami Fujino, an industry analyst at Nikko Salomon Smith Barney in Tokyo.
Therein lies Idei's dilemma. To pay for the transformation into "eSony," as he calls it, Idei is under pressure to boost market cap. Last year, he launched into the most ambitious restructuring since Sony's founding in 1946. Then he trumpeted plans to move into Net services, build Net devices, and distribute Sony's movies, music, and games through cable and other broadband networks. It helped push market cap up to $130 billion by March. But with little eSony to show, Idei was vulnerable to market perceptions. Says electronics analyst Reiji Asakura, who has two books on Sony to his credit: "Sony hasn't come up with anything concrete on the Net. It's still propaganda."
RESHUFFLE. Idei's response is all too familiar. On May 8, he announced the latest in a string of management reshuffles. Idei is to become chairman, while remaining chief executive. Chief Operating Officer Kunitake Ando, 58, currently head of the Vaio PC division, adds the title of president, and Teruhisa Tokunaka, former head of the PlayStation unit and the final member of the new triumvirate, retains his post as chief financial officer. Idei says this setup will let him focus on strategy. But tweaking the lineup hardly seems enough.
Consider Sony Pictures Entertainment. It will almost certainly lose money on the recently released I Dreamed of Africa. The movie cost more than $80 million to make but so far has generated just $5 million at the box office. That will dent earnings on promising projects, including a half-interest in the hit Erin Brockovich. Mobile communications is another problem area. Sony lags far behind companies such as Matsushita, NEC, and Fujitsu. And competition is hitting the margins on Sony's consumer-electronics products. Sony's dismal 1999 results, announced on Apr. 28, hardly came as a surprise. Sales were flat, at $62.5 billion; operating income fell 31%, to $2.3 billion.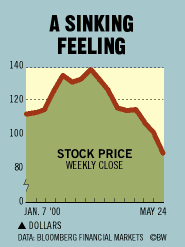 There are signs of trouble in Gameland, too. Microsoft plans to introduce its Internet-capable X-Box by the fall of 2001. In Japan, Sony Computer Entertainment hasn't been able to ramp up production of the PS2 beyond the launch level of 500,000 units a month. Game-market experts wonder whether Sony will meet demand in the U.S. and Europe, which are to receive their first shipments this fall. Meantime, Sony may be neglecting the first PS console. That's risky: PlayStation hardware and software contributed 9% of Sony's revenues last year but 27% of profits.
Idei has more than short-term results riding on the PlayStation. It could become the hub of the home network, downloading content and serving as a Web gateway. Investors are waiting.
Before it's here, it's on the Bloomberg Terminal.
LEARN MORE