Oh, You're Gonna Get Burned This Summer
The hot economy means more traffic and lighter wallets
Rochelle Sharpe
Ahhhh, summer. Time to escape from the crowds and kick back. How about a trip to a deserted beach, or a meandering drive through the country?
Dream on. Thanks to the booming economy, lots of people are planning to take their fantasy vacations this summer. That could turn yours into a crowd-bedeviled nightmare. Americans plan to take 237 million trips this summer, 3% more than last year. During Memorial Day weekend, the second-busiest travel period after Thanksgiving, 34.4 million Americans plan to roam at least 100 miles from their homes.
Vacations will not come cheap. With gasoline prices at $2 a gallon in some markets, it can cost $100 to fill up a Winnebago RV. Airline prices will be up 3% to 4% because of fuel costs, according to the Air Transport Assn. And in big cities, hotel rates are up about 4.3%, according to PKF Consulting.
Summer travelers don't seem fazed by rising costs. In a recent survey by the Travel Industry Association of America, most respondents said higher gas prices won't affect their plans, reports TIAA Chief Researcher Suzanne D. Cook. June Dittbrenner, 59, of Bethlehem, Pa., decided to splurge when she found first-class fares for her family's annual trip to the Caribbean for just $100 extra each. That pushed the cost to more than $1,000 a person. "Seems like everything is going up nowadays," she shrugs.
Money, however, may not buy solitude this summer. Or carefree travel. Those who take to the highways in cars are more likely than ever to find themselves in line behind a camper or motor home. There are currently 9.3 million recreational vehicles on the road, and the average owner expects to log 2,780 miles between Memorial Day and Labor Day. That's 600 miles more than last year, according to the Recreation Vehicle Industry Assn.
Those who opt to fly may not find the skies terribly friendly, either. As many as 87% of all airline seats will be filled over Memorial Day weekend, significantly higher than last year, the Air Transport Assn. says. Overall, airplane capacity will be 4% to 5% higher this summer compared to last, says the ATA. Those flying United Airlines, the world's biggest carrier, face delays because United pilots are refusing to sign up for overtime until a dispute over a new labor contract is resolved. Already, the airline has canceled 100 of its 2,400 daily flights--forcing thousands to rebook flights everyday. The company has also scheduled fewer flights for June and July than usual. Trans World Airlines' commuter feeder, Trans States Airlines, meanwhile, was expected to shut down at 12:01 a.m. on May 27 because of a planned strike of its 700 pilots.
SHUTTLE SHOCK. Once travelers make it to their destinations, it shouldn't be too hard to find a room, thanks to a hotel-building boom. Unless, of course, they want top accommodations. At the Wauwinet, an exclusive inn in Nantucket, Mass., where the best rooms cost $850 a night, 60% of all rooms are already gone for the summer, says Mark Pequignot, the innkeeper. Last summer, he fielded--and politely declined--calls from last-minute travelers asking what it would take to cancel someone else's reservation. He grimly anticipates similar calls this season.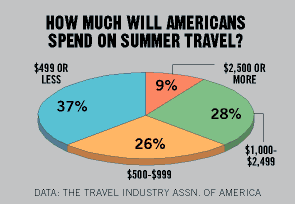 Surprisingly, the vacation rush isn't pushing travel industry revenues to record heights. Competition is holding room rates down. And today's travelers seem relatively frugal compared with the big spenders of the '80s, says the TIAA. All told, average spending for the big summer trip will be about $965 per person, up only slightly from last year.
Still, even where prices aren't rising, there is always some clever way to soak the guests. Complimentary shuttle vans may not be complimentary. At Wyndham Resorts, you will find a resort fee added to your bill, which can be $7 per person per day. That's for the pool and tennis court--even if you don't use them.
Finally, after checkout, there's the little matter of getting your car out of the parking garage for the long ride home. At the Hotel Inter-Continental New York, guests who use the garage are charged as much as $38 a day. Bon voyage.
Before it's here, it's on the Bloomberg Terminal.
LEARN MORE