London's New Subway: Lovely, But Is It Safe?
Dana Rubin
The grand opening came and went a few months ago, but the newest stretch of the London Underground, the glitzy Jubilee Line that runs through some not-so-glitzy neighborhoods south of the Thames, is still a work in progress.
Protective netting blocks off balustrades, scaffolding surrounds glass walls, and garish engineer's tape masks sections of handrail in the spanking new high-tech stations. "Trivialities," says Roland Paoletti, the project's architect-in-chief, who has spent the past decade overseeing the design and construction of 11 stations and a service depot.
The project, which extends from fashionable Mayfair and also passes through the Canary Wharf business complex on the way to down-at-the-heels East London, was supposed to take six years. But creating 10 miles of tunnels in a city as ancient as London, governed by contentious civic bodies, lacking a clear policy on urban transportation, and haunted by a history of railway and underground disasters, proved to be tougher than expected.
Paoletti, who left the project in April, has won widespread praise for designing imaginative stations marked by soaring spaces and unorthodox yet elegant designs, set off by muted and sophisticated color schemes and generous use of natural light. Along the way, Paoletti encountered unexpected engineering snags, political interference, and horrendous cost overruns. At one point there were fears that excavation for the Westminster station could undermine Big Ben and give it an unfortunate resemblance to a certain tower in Pisa; an alternate support system had to be devised. Before the opening, the line's original $3 billion price tag swelled to $5.5 billion.
GRACEFUL SOLUTIONS. Paoletti, a bearish man with an aquiline nose and a graceful bearing, persevered to the end. The son of Italian immigrants, he trained as an architect in Manchester before coming to London to work with Basil Spence, the postwar modernist. In 1960, he left Britain to serve as an apprentice to Pier Luigi Nervi, the Italian engineer-architect famous for his graceful solutions to complex structural problems. Nervi sent Paoletti to Brasilia, the capital of Brazil, to work on the Italian embassy. Later, Paoletti designed stations and depots for the Hong Kong transit system.
With their bold, industrial-inspired designs and ever-present use of stainless steel, the new Jubilee Line stations call to mind Nervi's monumental airplane hangars and sports stadiums and pay homage to his faith in new technologies and materials. Detractors, it must be said, call the stations "designer refrigerators."
In 1990, when he was hired for the job, Paoletti decided to assign different architects for each station. But finding them wasn't easy. The response to his call for bids was, he says, "sparse and disappointing." Perhaps this was because the Jubilee Line extension serves some of the grittiest parts of the city, places like Southwark, Canada Water, and Canning Town.
But to Paoletti, it was a great challenge. In the end, he lured both distinguished and unknown architects to the project; he even designed three of the stations himself.
So why, after 10 years in the making, are some elements still not finished? According to Paoletti, it's all because of one person: the government inspector. "He comes around at the last minute and decides that something's wrong, and everything's on hold," complains Paoletti.
PROUD ACCOMPLISHMENT. Consider the much-heralded station at Canary Wharf, designed by a team of architects under Sir Norman Foster. A soaring glass canopy marks the entrance to a ticket hall as grand and stirring in effect as Grand Central Terminal. Below, however, the sleek glass partitions that let natural light flood down onto the platforms are obscured by net barricades.
Or what about Stratford station, where a magnificent span of arched glass soars over the platform? This is one of Paoletti's proudest accomplishments, a work that would have delighted Nervi himself. To Paoletti, it has serio, an Italian word he loosely translates as "the ability to say serious things to serious people."
But here, too, are problems. A piece of angled glass recently fell out of the canopy and shattered on the platform--while an inspector was visiting the site. Now a reconsideration is under way of whether large volumes of glass throughout the new line have to be replaced.
So who, exactly, is the dreaded railway inspector? Her Majesty's Railway Inspectorate dates from Victorian times, following a number of catastrophic railway disasters and widespread calls for tougher safety standards. Today, the Railway Inspector wields enormous power to make or break public transportation projects. The current holder of the post is a no-nonsense Scotsman named David Timothy. Not surprisingly, his view of the new Jubilee Line stations differs considerably from Paoletti's. "They didn't take safety into account," he asserts.
According to Timothy, the new line is riddled with problems. Those stylish tunnel arcs at London Bridge? Scurrying travelers could easily trip on the corners. Those chic brushed-metal handrails? Children could scrape their heads on the ends, which project downward, artfully but dangerously. And those low glass partitions at Canary Wharf? An object hurled over them could travel a breathtaking 90 feet before crashing on some poor bystander below. The list goes on. Timothy argues that at several stations, where grey stainless steel is the predominant material, visually impaired travelers would have a tough time seeing where to go.
In fact, one of his biggest gripes is that the stations, for all their glass, are simply too dark. "The lighting is substandard," he says. "Roland would say that's the point--that there's light where you want it and dark where you don't, and that the tunnels recede into beautiful shadows. Rubbish."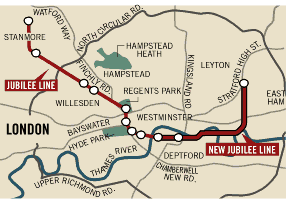 MUTUAL ADMIRATION. Despite forcing a number of design changes and delays, Timothy has done his share of compromising. He yielded on the lighting issue, and he abandoned his fight for lower handrails--four inches lower would have put them in easy reach of disabled travelers. In the end, both Timothy and Paoletti insist they are not true adversaries and profess admiration for each other's goals.
"Roland is a gentleman," Timothy says.
"We have no real argument," agrees Paoletti.
In April, as he cleaned out his desk and prepared to depart the project, Paoletti even managed to find something aesthetically pleasing about its incompleteness. "Leaving bits and pieces non finito is very Tuscan," he said, "just like the great Florentine churches."
Before it's here, it's on the Bloomberg Terminal.
LEARN MORE