Ge's Pension Fund Runneth Over. So Do Tempers
Refusing to share more of the riches with workers sparks revolt
Nanette Byrnes
Thanks to the longest bull market in history and some smart investing from the financial cognoscenti at General Electric Co., the company has a fantastically rich pension plan. With $50 billion in assets, it's larger than the gross domestic product of Nigeria--and it has almost $2 for every single dollar it's expected to pay out.
Even better, the fund is a major source of income for GE. Last year, it contributed almost as much to the company's bottom line as broadcaster NBC--and more than twice as much as GE's appliance business.
Considering that only a decade ago many pension plans were sorely underfunded, you might think this magnificent performance would have GE employees and retirees beaming. Instead, they're booing. On May 30, when all 14 unions sit down with company managers at New York's Rihga Royal Hotel to negotiate their next contract, their first demand will be bigger pension payouts. Union officials say that GE's average unionized retiree collects just $12,000 a year. Although the pension assets belong to the company--not the pensioners--union officials say that GE can afford to share. "When you have pension funds so severely overfunded and pensioners that receive so little, it just boggles the mind," says Rick Bank, the AFL-CIO's director of collective bargaining.
GE won't be the only company to grapple with the topic. Over the next decade, baby boomers will begin to retire, and with overfunding increasingly common, that has made bigger pensions a top union priority. "Everyone's going to be looking at GE," warns Bank.
General Electric tried to neutralize the issue by increasing some retiree benefits 15% to 35% on Apr. 17, just nine days before its annual meeting. Spokesman Gary Sheffer says the increase--the sixth in 20 years--was the result of a periodic review. Over the same period, Sheffer says, GE rivals in appliances and power have offered just one or two hikes.
WHOSE FUND? Still, the raise followed months of protests by retirees. And the increases have hardly mollified workers. Although retiree Helen Quirini, 80, now gets $160 more a month, the ex-factory worker in Schenectady, N.Y., says that in light of GE's $24 billion pension surplus, that's "not enough." Quirini, 80, who retired in 1980 after 39 years with GE, complains she'll still only receive $736.60 a month--just $8,850 a year.
Such low benefits have retirees pushing GE for a regular cost-of-living increase. And at planned demonstrations around the country, union pickets will also demand better benefits for early retirees and a seat on the pension board. All in all, the unions claim GE is managing the fund like a business rather than for the benefit of workers. "The management of GE is more interested in the pension driving up the stock price and making it more attractive to investors than for the sole purpose it was intended for," says Stephen Tormey, a union negotiator. The company denies that and says it is proud it has managed the fund so well. And it points to the rising number of people covered as proof that it cares about their welfare.
To be sure, the company would pay a price for sharing. In the last five years, GE pension income has contributed $4 billion to earnings. Any increase in retiree benefits would lower the company's pension income, notes Richard Dunn, GE's former pension-plan program manager and now a pension consultant with Merrill Lynch & Co. Dunn also points out that excess funding leaves GE free to painlessly acquire companies with underfunded plans.
EXTRA GLOSS. Still, the benefits of the surplus are limited by accounting standards. GE can add any excess pension income directly to the bottom line, which helps meet earnings targets and boost the stock. But it can't reinvest the surplus or the income generated in other businesses.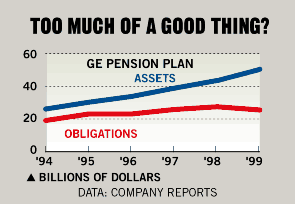 Certainly, GE's earnings would have been fine without the pension surplus--they rose 15% last year with it and 14% without. But the company says it wants to save the money in case of a downturn. "When assets are down, we don't lower benefits, and when they increase, we don't necessarily increase benefits," Sheffer says. He says the fund is managed for the long-term benefit of employees.
But union leaders aren't convinced. "At this point, we are further apart on the issues than we've been in 20 years," says lead union negotiator Art Smith. He says a strike is possible. And that is something Jack Welch could hardly want as he prepares for his own retirement--and the $8 million pension that goes with it.
Before it's here, it's on the Bloomberg Terminal.
LEARN MORE