Cisco High
Recruiting tomorrow's techies from high schools and the streets
Kevin Ferguson
Leo Carey folds his stocky arms as he patrols the floor of Charlestown (Mass.) High School's basement woodworking shop. "How many of you are ready for the final?" Carey asks the 25 students. "Four, five, six," he counts. "That's it? You'd better get on it." They'd better. After all, it's not tables and chairs these students are constructing. The bandsaws and piles of lumber have been pushed to the corner. Instead, Carey is helping them build a career in computer networking.
Where students once drilled and hammered, they now pound out computer code on Windows NT workstations. They are learning skills that could earn them starting annual salaries of $40,000--as much as a teacher in Massachusetts might make after seven years on the job. Not bad for students attending school in the crumbling neighborhood below Boston's Bunker Hill monument, especially when you consider that 40% of its graduates don't go to college and 22% attend special-education classes.
This New Economy shop class is the brainchild of Cisco Systems Inc. But it isn't just for high schoolers: The course also is offered at the James F. Boccardo Regional Reception Center, a homeless shelter in San Jose, Calif., the first such program in the nation. It is the networking giant's answer to the high-tech skills shortage--with a dose of social consciousness. "We hear a lot about bridging the `digital divide.' But it's usually a crap answer, like putting a Sun server in a kindergarten classroom. What good is that? The Cisco program is something that truly helps," says Maury Kendall, communications manager for the Emergency Housing Consortium, the nonprofit agency that runs the shelter.
This August, thanks to classes held at the shelter, 22 homeless persons ranging in age from 22 to 52 could become Cisco-certified--and eagerly sought by employers. "There's a lot of critics out there who say the homeless are just too stupid. I look forward to proving them wrong," says Jose Gonzalez, 37, who expects to be among the graduates. City officials already are planning to expand the program in September by setting up another course at a shelter across town. "Our program gets corporations to rethink their internship and training programs beyond college students," says Callie Struggs, manager of the Redevelopment Agency's First Source Employment Program, a jobs-training program. "And if it can happen in a homeless shelter, it can happen anywhere."
The Cisco program is far from an act of charity. High-tech companies like Cisco are desperate for help. This year, U.S. employers will need 1.6 million tech workers, yet only half of the 843,328 positions are expected to be filled. Cisco hopes to help close that gap by graduating more than 10,000 students around the world from its virtual Networking Academy by this summer. The program, started in Oct. 1997, isn't the first of its kind to tap the youth market. Microsoft, Intel, Novell, and Oracle each sponsor narrowly focused high school and college courses that will lead to jobs supporting their products. But Cisco's program is the most ambitious, and it's growing the fastest: 3,432 locations in 60 countries. So far, 21,000 students are enrolled, and 4,100 have graduated, although Cisco has hired only a few dozen.
Interestingly, the Networking Academy wasn't created to ease a labor shortage. It wasn't even created to help students. Many schools, Cisco discovered, didn't have the knowhow to maintain their own computer networks. So the company created a program to teach school administrators how to troubleshoot networking equipment. "The more innovative schools wanted to begin offering the program as an elective for their students," says Kevin Warner, director of the program at Cisco.
That's how the idea caught on. By the close of its fiscal year 2000, ending July 31, Cisco will have spent more than $50 million in direct contributions--including $1.37 million to wire 10 of the nation's poorest school districts. And Cisco says it will donate more than $50 million in matching corporate contributions from other companies.
No books. Here's how the academy works: Certified instructors teach classes at the local level, giving blackboard chalk talks and using other traditional teaching methods. Still, most of the coursework is retrieved online. There are no books: Students log on to review the coursework, given in seven languages, and take exams. The coursework and exams are largely self-paced, though the course is designed to be taught over two full school years. Once the curriculum is completed, students can take the Cisco Certified Network Associate (CCNA) exam, a networking-industry test administered by independent agencies. The examination is essential in landing a high-paying networking job.
Forget flipping burgers. Students can leap straight from high school desks to annual salaries of $50,000 to $70,000. "Some of our high school students were just inhaled by the industry," says Jose Otero, director of technical academies for the New York City public school system, which had 24 students in the first graduating class last year.
HarvardNet Inc., a Boston-area Internet service provider with 15 network engineering positions available, doesn't want to be among the companies scrounging for high-tech workers. This summer it will begin using the Networking Academy as a job-development pool, hiring two or three students as interns. On a recent tour of HarvardNet's network operations center, students from Charlestown High School pondered their job opportunities. Tejwattie Balgobin, 17, says the program has given her direction. "This course has influenced me to explore computer engineering," says Balgobin, who plans to go to a nearby technical school.
Classmate Nedjyne Victor, an 18-year-old senior at the school, hadn't considered a technical career until the Cisco program came along. "I was given a choice of this or home economics. I thought this would be more interesting," she says with a shrug. This fall, Victor plans to study computer engineering at vocational school Franklin Institute of Boston. She will be the first member of her family to complete high school.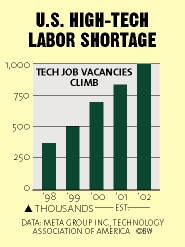 For three hours a night, four days a week, residents and employees at the San Jose homeless shelter take an accelerated program to finish the course in 26 weeks. "Here in Silicon Valley, folks who would be damn close to middle class anywhere else in the country are homeless because of housing prices. These people aren't just left behind by technology here, they're being punished," says the Housing Coalition's Kendall.
Gonzalez is one of the Cisco students trying to catch up. Gonzalez, his wife, and their six children (aged 4 to 18 years) lost their home because of Gonzalez' substance abuse. Now drug-free for five years, gainfully employed by the Emergency Housing Coalition, and living in a state-subsidized four-bedroom home in San Jose, he's already contemplating his next job: maintaining Cisco networks. Gonzalez is glad to be in a position to really turn things around--for both himself and for companies desperately in need of tech-savvy workers.
Before it's here, it's on the Bloomberg Terminal.
LEARN MORE