Xerox: Rick Thoman Speaks Up For Himself
One week after his ouster, he defends his time at the helm
Pamela L. Moore
From the sanctum of his spacious home in Greenwich, Conn., Rick Thoman is launching a mission to salvage his reputation. Forced out as CEO of Xerox Corp. on May 11, a mere 13 months after taking the job, Thoman has plenty of motivation to tell his side of the story.
During his lackluster tenure, the copier company lost $20 billion in stock market value. Earnings disappointments became commonplace. Employee morale plunged, along with market share in key product categories. Much of the blame for this sorry performance has been placed on Thoman, who is variously described by critics as an aloof and distant executive who lacked the leadership skills needed to transform Xerox into a New Economy company.
"CULTURES ARE TOUGH." In the privacy of his wood-paneled library, only a week after being asked to resign, the 55-year-old executive appears oddly cheerful, if somewhat stilted in defending his brief stint at the top. He displays no bitterness or remorse at his ouster, and he still speaks of Xerox in terms of "we" and "us," as if he still occupied the executive suite. "I did the best job I could," insists the professorial Thoman. "I'm leaving with my head high."
Yet, despite widespread criticism over his leadership abilities, Thoman begins a 90-minute interview attempting to vindicate a strategy that no one has questioned. Reading from papers in an open folder on his lap, he describes his plan to create new growth by entering new businesses, from printing books on demand to spinning out Xerox' languishing Internet technologies. "My regret is that I wasn't able to prove I was right," Thoman says. "My report card would be an incomplete. But I wished I'd had the chance to demonstrate it's a far higher grade."
To that end, explains Thoman, he pushed through a massive reorganization of Xerox' vaunted sales force a year earlier than planned. "(It) was such a gigantic change that you couldn't expect it to go perfectly," he says. "You can't leap a chasm in two bounds. Are we perfect? Absolutely not. Are people happy? No."
Thoman concedes that the changes crushed the organization's morale. "I clearly did not get enough Xerox people to understand it was going to work the way that they wanted," he admits. "Cultures are tough. [Xerox'] was hard to move."
Of course, Xerox Chairman Paul A. Allaire, who personally recruited Thoman from IBM to initially become president three years ago, had thought Thoman was capable of changing the firm's hidebound culture. A long-time protege of IBM Chairman Louis V. Gerstner, Thoman had helped Gerstner reengineer Big Blue as IBM's chief financial officer. He had also worked with Gerstner at both McKinsey & Co. and American Express. But critics say Thoman was somewhat disengaged and failed to rally the company's entrenched "Xeroids," as employees call themselves, behind his strategy.
Responding to those charges, Thoman quickly becomes defensive. "I was out in the field," he says. "I was out with customers. Every quarter I did a voice-mail to employees. I set up a Web page and read every e-mail. I did a whole lot of things that we hadn't done before."
If Thoman faults himself, it is over his handling of the changes he tried to bring to Xerox: "You could argue that I was tone deaf to a degree around people's concerns simply because I was worried that if we slowed down we would never get there. I felt that we did not have the luxury of changing over a five-year period."
AN ENCORE? Thoman seems to take some solace from Allaire's public comments that he and the board are fully supportive of the former CEO's strategy. He notes that investors reacted positively to the company's first quarter earnings by driving shares up 16% in two days. Just four days before he resigned, he met with some of Xerox' biggest investors to tell them about the company's improved prospects for the second half of the year. Now it's up to his old boss, Allaire, who has stepped in as CEO again, and another Xerox veteran, Anne M. Mulcahy, who has taken the president's job, to turn things around.
Besides collecting severance and sitting on 2.55 million Xerox shares, worth $69 million today, what does a 55-year-old executive who publicly failed do for an encore? "I've had a track record in four companies of good leadership," he maintains. "I believe I'm a talented person."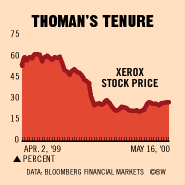 Thoman, who earned $900,000 last year in base pay without a bonus, says he's been comforted by supportive telephone calls from several CEOs and from U.S. Treasury Secretary Lawrence Summers. And he said he's received several job offers--three to head dot-com companies, one from a Wall Street investment firm, and yet another from a "major" business school he wouldn't name.
Still, wherever he lands, it's likely to seem a big comedown for the ex-head of one of Corporate America's icons. Thoman understood the need for speed and change to Xerox. What he lacked was the leadership ability to pull if off.
Before it's here, it's on the Bloomberg Terminal.
LEARN MORE