Will Aol Power Up Enron?
The utility will try to get AOL's 22 million subscribers to sign on
Wendy Zellner
When energy giant Enron Corp. first attacked California's residential-electricity market in late 1997, it discovered that the state's regulations wouldn't let it give customers big savings or make a profit. The company withdrew. But on May 16, Enron said it will take another crack at the nation's $130 billion market by forming a new power company with America Online Inc. and IBM.
The latest attempt underlines just how fast America's long-regulated utility markets are changing. Since 1997, another 23 states have opened the electric business to competition, so the number of households able to choose among gas or electric suppliers should rise from about 81 million this year to 104 million by 2005. The resulting competition could cut the prices consumers pay--and slash the amount of energy they use. "It's the biggest market ever deregulated"--twice the size of the long-distance phone business, notes H. Eugene Lockhart, formerly president of AT&T Consumer Services and now CEO of New Power Co., as the Enron-backed venture is called.
Enron also is betting that the Internet will help it reach potential customers more cheaply. New Power's exclusive marketing deal with AOL gives it instant access to more than 22 million customers who will be able to buy power and pay their bills online. IBM will handle billing and customer service through a 10-year outsourcing deal. Enron has "the right idea at the right time," says analyst Raymond C. Niles of Salomon Smith Barney.
Enron, which initially owns 60% of the venture, will stick to what it does best: securing power through its massive trading operations and offering risk management and regulatory expertise. Three Enron execs have joined the business, based in Greenwich, Conn.
WHO KNEW? New Power is betting that big-name backers will help it win the confidence of reticent consumers. In Pennsylvania, which started opening its market about 18 months ago, only 10% of households have chosen alternate electricity suppliers, says Sharon M. Reishus at Cambridge Energy Research Associates. Enron's entry could help raise awareness. "Our biggest challenge is getting consumers to understand they can make a switch," says Chris S. King, CEO of online rival Utility.com.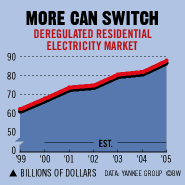 New Power's biggest lure will be the promise of 10% to 30% savings off energy bills. Customers also will receive American Airlines Inc. frequent-flier miles and discounts on appliances. In addition, New Power promises innovative services, such as variable pricing for peak and off-peak users and multiyear deals.
Long term, these innovations could revolutionize America's long-sheltered utility markets. They could also help alleviate energy shortages during peak demand by giving customers incentive to shift their usage. "Deregulation will bring real-time pricing and real-time meters," says Lou L. Pai, CEO of Enron Energy Services, which handles energy needs for big companies. But first, New Power needs to prove that it can plug in lots of customers.
Before it's here, it's on the Bloomberg Terminal.
LEARN MORE