U.S.: Why The Fed Will Keep Tightening The Screws
Despite higher rates, credit remains easy--and that's fueling demand
by
Even before the Federal Reserve lifted interest rates by a half point on May 16, investors and market makers already were pondering the Fed's next action. In recent weeks, a more aggressive policy move had become viewed as a done deal. Still, the important question remains: Where does policy go from here?
Based on the Fed's own words and the latest set of economic data, a few more turns of the screw appear quite likely. In its statement, the Fed noted that increases in demand have outpaced even the rapid, productivity-driven gains in potential supply. It said policymakers are "concerned that this disparity in the growth of demand and potential supply will continue, which could foster inflationary imbalances that would undermine the economy's outstanding performance."
What is driving the Fed's concern? Evidence shows that interest rates haven't risen to levels consistent with the overall tighter financial conditions needed to slow demand to a pace that will let inflation pressures subside. That's why the Fed believes the risks are still weighted toward "heightened inflation pressures." What the data say about those risks in coming weeks will heavily influence the Fed's decision at its next meeting on June 27-28.
CLEARLY, THE FED'S HIKES, which now total 175 basis points since June, 1999, and bring the federal funds rate to 6.5%, are pushing up the cost of credit (chart). The rate on Moody's BAA-rated corporate bonds hit 9% in mid-May, up sharply from 8.4% only four weeks ago. This rate hasn't been that high in five years, and the spread between it and top-quality AAA yields has widened notably in recent weeks. Meanwhile, 30-year fixed mortgage rates are up to 8.5%, also a five-year high.
But at the same time, credit continues to flow liberally through the economy. The yearly growth rates of real estate loans, installment credit, and commercial and industrial loans are all still accelerating, helping to grease the wheels of demand and production. That's one sign that financial conditions are still accommodative.
A key indication of this accommodation is the ongoing acceleration of industrial activity, as seen in April's surge in industrial output, accompanied by additional upward pressure on production capacity (chart). April retail sales looked weak, but it's way too soon to conclude that consumers are feeling constrained, with the labor market so tight and the stock market holding up. And the April housing report showed only a small sign of any weakness in homebuilding.
Of course, you might argue that the benign April consumer price index is a reason not to hike rates further. Indeed, the overall index was unchanged from March, and the core index rose a mild 0.2%, negating worries of a repeat of March's 0.4% jump. However, the trend in core inflation has clearly shifted up in recent months, and the tame April data did not change that.
In the past six months, the annual rate of core inflation has risen to 2.5%, from 1.9% in the previous six-month period. That pickup has been led by nonenergy services, where the rate has risen to 3.6%, from 2.2%. Key areas of acceleration have been in the basic cost of housing, called "shelter" in the CPI, along with medical care, recreation, and education. Moreover, oil prices are back to near $30 per barrel in May, which will push up the overall CPI.
The good news is that even though core inflation has picked up, that increase has occurred at a time when unit labor costs remain very tame. Any rise in inflation cannot be sustained unless unit costs speed up. But therein lies the Fed's chief worry for the coming year. With compensation growing faster and with labor markets sure to get only tighter, some upward pressure on unit costs may be unavoidable, unless the economy slows significantly and quickly from its 5% pace of the past year--and 6% in the past three quarters.
ON THAT MEASURE, the latest data show few signs that the Fed is succeeding at slowing the economy. True, retail sales fell 0.2% in April, but two temporary factors were at work. First, car sales dropped in March and April after auto makers ended winter incentive plans. But Ward's Automotive Reports says that May vehicle sales could post an all-time high. Second, falling gasoline prices dragged down retail sales, which are reported without price adjustments. When gas-station receipts are excluded, total retail sales were flat last month. And with crude-oil prices back up, gas prices will be on the rise as well, suggesting a turnaround in gas-station receipts.
WITH NO SIGN that demand is slowing, goods producers are gearing up. Industrial production jumped 0.9% in April, and the March increase was revised up sharply, to 0.7% from 0.3%. The gains were widespread, with business equipment continuing to lead the pack. The hefty April gain means that even if output were to be flat in May and June, production would still grow at an annual rate of 6% in the second quarter. However, producers are more likely to expand output, in large part because business inventories are not growing fast enough to match the heavy pace of demand (chart).
Rapid output growth will push up capacity use even further. In April, the average operating rate for all industry rose to 82.1%, from 81.7% in March, the highest since the spring of 1998. And if recent trends in output and capacity growth continue, the overall operating rate will exceed 83% by the end of the year. At that level, supply bottlenecks that lead to pricing pressures almost always develop.
In addition, consumer demand, fueled by solid income and wealth gains, is keeping homebuilders busy. Housing starts rose 2.8% in April, to an annual rate of 1.66 million. The National Association of Home Builders said its members reported a slight gain in housing activity in May, as buyer traffic and sales increased.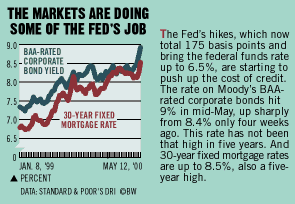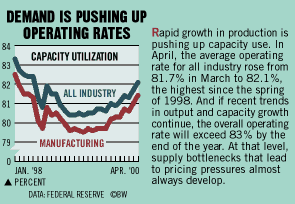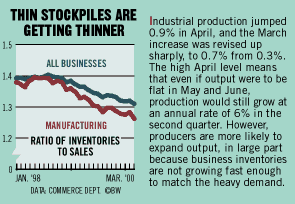 But permits in April fell for the third month in a row, perhaps the first sign that higher mortgage rates are nipping at home buyers' heels. Keep in mind, though, that housing activity will have to slow a lot more before upward pressure on home prices starts to abate. Higher home prices present two problems for the Fed: One, they already are pushing up housing costs in the CPI; and two, rising home values are an important component of the wealth effect, which is boosting consumer demand.
The other component of the wealth effect is the stock market. Stocks actually rallied initially after the Fed' s bolder action, possibly on the belief that policy will be on hold for a while. Such complacency leaves the Fed in a conundrum, as stock wealth continues to power the very demand the Fed wants to curb through higher rates. Until overall financial conditions, including those in equity markets, tighten sufficiently, the Fed's work will not be done.
Before it's here, it's on the Bloomberg Terminal.
LEARN MORE