The Penny Pinching In Argentina Won't Stop Anytime Soon
And with consumers in a funk, the economy is stuck
by
Sitting outside a Buenos Aires supermarket, Jose Luis and Gladys Toledo are going through what has become a monthly ritual. They're counting out the pesos they have to spend on the items they need for their growing family. "When we got married two years ago, coming to the supermarket was like a mini-adventure," says Jose Luis, who earns $310 a month working as a security guard. "But now every time we go it's frustrating because there are so many things that we can't afford."
The Toledos are not alone in pinching pennies these days. Battered by nearly two years of recession, Argentina's consumers are in no mood to spend. That plus fiscal austerity are dimming prospects for a promised economic rebound this year. The government is shooting for annual growth of 4%, after a 3% drop in 1999. But some analysts predict that it will not top 2.5%. Exports are rebounding. But with unemployment lodged in the double digits, the real engine of the economy--internal demand--remains stalled. "Until consumers feel confident again, it would be hard to qualify this as a true recovery," says Abel Viglione, senior economist at FIEL, a Buenos Aires think tank.
The government of President Fernando de la Rua is in a bind. It desperately wants to end the recession. But it dares not do anything to threaten the stability of the Argentine peso, which is pegged 1 to 1 to the U.S. greenback. The fixed exchange rate hampers export competitiveness and leaves local interest rates at the mercy of the U.S. Federal Reserve. But abandoning the peg would wreck the financial system and demolish investor confidence.
That leaves De la Rua few tools to jump-start the economy. Shortly after taking office in December, he pushed through a package of spending cuts and new taxes to rein in a $7 billion fiscal deficit. Foreign investors and the International Monetary Fund applauded the move. But not business and the middle class, which will bear the brunt of the tax hikes. "The positive confidence shock De la Rua sent investors never reached the people," says Oscar Liberman, director of Fundacion Mercado, a local think tank.
Business is now bracing for more belt tightening. On May 12, Economy Minister Jose Luis Machinea announced new plans to raise corporate taxes and cut expenditures by an additional $600 million to meet the fiscal deficit targets agreed upon with the IMF.
Retailers are particularly hard hit by the austerity drive. A recent survey by Fundacion Mercado shows that 71% of families plan to keep monthly spending at current levels, while 24% plan to scale back. Their thriftiness shows in supermarket sales, which fell for the eighth straight month in March. Sales of nonessential items such as home appliances, clothes, and electronics, are down even further.
"GRAVE SITUATION." The sight of half-empty parking lots built to accommodate thousands of shoppers is beginning to test the patience of market leader Carrefour. The French retail giant has spent an average of $120 million in each of the past five years to add 13 state-of-the-art hypermarkets to its Argentine chain of 22 stores, yet sales have barely budged. In fact, net income actually fell to $37 million in 1999. And 2000 is not looking much better. "Unless we see some sort of light recovery in the second quarter, I'm afraid the grave situation affecting the industry could prolong itself for the rest of the year," says Carlos Richter, president of Carrefour Argentina.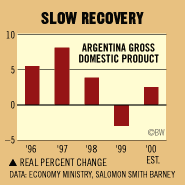 In some parts of the country, supermarkets have become the target of raids. During a recent nationwide general strike, one store in Mar del Plata had to give away more than 300 kilograms of food in order to dislodge 100 unemployed protesters from its premises. For many, the isolated incident called up memories of the economically unstable late 1980s.
Companies have clearly turned against De la Rua's austerity drive: In a recent poll of chief financial officers from the country's top 150 companies, 77% of respondents said that measures to stimulate domestic demand are urgently needed. But with the government strapped for cash, there is little hope of relief for Argentina's stressed consumers.
Before it's here, it's on the Bloomberg Terminal.
LEARN MORE