The Czar Of Chicago
Doug Royalty
AMERICAN PHARAOH
Mayor Richard J. Daley: His Battle for Chicago and the Nation
By Adam Cohen and Elizabeth Taylor
Little, Brown -- 614pp -- $26.95
Illinois' capital was, in the mid-1930s, the promised land for a certain, prevalent kind of politician--the whiskey flowed, the women were willing, and the lobbyists were all such generous souls. Yet Richard J. Daley, who arrived in Springfield in 1936 as a young state representative, was not that sort of pol. A devout Catholic with a growing family back in Chicago, Daley mostly stayed in his hotel room, working. When he went out, it was usually for long walks during which he and two fellow legislators from Chicago would chew over the budget and finance problems of the day.
So how did this Depression-era policy wonk--shy, none too handsome, and frequently tongue-tied--morph into Richard "I Am the Mayor and Don't You Ever Forget It" Daley? The vindictive boss who ran America's second-biggest city with Stalin-like authority from 1955 until his death in December, 1976? The Democratic Party kingmaker who could make or break governors, senators, even Presidents?
Journalists Adam Cohen of Time and Elizabeth Taylor of the Chicago Tribune carefully trace Daley's path to power, and much more, in their meticulously researched American Pharaoh--Mayor Richard J. Daley: His Battle for Chicago and the Nation. Three decades after columnist Mike Royko's scathing best-seller, Boss: Richard J. Daley of Chicago, Cohen and Taylor have come along with what is likely the definitive biography. Unlike Royko's fire-breathing account of absolute corruption, American Pharaoh is dispassionate, detailed, and comprehensive. Cohen and Taylor don't just look under the hood of America's last great political machine, they take the engine apart and examine every corroded nut and bolt.
It's a surprisingly compelling narrative, given that Daley the man was a rather colorless workaholic. (He did often display one hue, actually; Cohen and Taylor point out that Daley flew into a purple rage over one thing or another just about every working day of his life.) Young Daley was an obedient but not particularly gifted student. As a public official, he was shrewd but hardly imaginative. Mostly he spoke in meaningless platitudes; his most famous utterances were malapropisms and syntax-mangled declarations such as, "I resent the insinuendos" and, late in his career, "They have vilified me, they have crucified me, yes, they have even criticized me."
Fortunately, Chicago has never lacked for characters. The book's cast ranges from the saloonkeeper-pol Paddy Bauler, who danced a jig on the night of Daley's first election as mayor and gleefully declared, "Chicago ain't ready for reform!" to Youth International Party founder Abbie Hoffman, who bedeviled Daley during the 1968 Democratic Party convention by threatening to dump LSD into the water supply and pull down Hubert Humphrey's pants on the podium.
Cohen and Taylor aren't interested in merely relating anecdotes, however. Like prosecutors building a case, they bore into 20th century Chicago, taking us from the death-stinking stockyards to the polling places where precinct captains often accompanied voters into the booths (four-legged voting, they called it) to the famous Battle of Michigan Avenue during the '68 convention, in which the Chicago police ran amok, bashing the heads of Vietnam War protesters, reporters--anyone who got in their way--before a national TV audience.
The approach adds up to much more than a life. Pharaoh--the title refers to Chicago blacks' name for Daley during the civil rights era--is a chronicle of one man's long power trip, sure. Interestingly, it's also the tale of Chicago's rebirth, as Daley and his forces reverse the city's postwar decline and create a truly awesome modern metropolis. But there's more: Here Daley comes to embody Middle America's struggle with the great social upheavals of the day, from suburbanization to the 1960s antiwar movement to civil rights.
Especially civil rights. Pharaoh's best story may be its most disturbing one, that of ironclad segregation, poisonous racism, and appalling violence in a Northern city that ought to have acted better--and might have without Daley as enabler. Among the highlights:
-- Chicago's 1919 race riots, triggered by the death of a black youth who drifted into "white" waters at a Lake Michigan beach and drowned after being hit in the head by a white man's rock. The violence, carried out mainly on Daley's turf and in part by members of the (soon to be Daley-led) Hamburg Athletic Club, featured white gangs shooting out of cars as they cruised through black neighborhoods. In five days, 23 blacks and 15 whites were killed, and hundreds were injured. Cohen and Taylor can't pin down the role of the 17-year-old Daley--he never spoke of it--but they conclude that "Daley was an integral member of a youth gang that played an active role in one of the bloodiest antiblack riots in the nation's history."
-- Daley's construction in the 1950s of the Robert Taylor Homes, 28 massive towers that stored 27,000 poor souls. Robert Taylor, virtually all black from the start and built within the city's South Side Black Belt, "left no doubt that the Daley era of public housing would be marked by densely packed high-rise towers that vigorously reinforced the city's racial boundaries." In the words of one resident, the project was a "public-aid penitentiary."
-- Martin Luther King Jr.'s Chicago Freedom Movement campaign. King, who took his civil rights crusade north to Chicago in 1965, believed that the all-powerful Daley could be convinced of the rightness of causes such as open housing and integrated schools. After months of marches and meetings, King left Chicago disappointed and defeated. Daley, meanwhile, stonewalled and lied--he was too smart to antagonize civil rights leaders as Southern politicians did--and skillfully co-opted the movement's rhetoric.
Credit Daley with the luck of the Irish American. An only child born in 1902, he grew up in the white ethnic enclave of Bridgeport--just across Wentworth Avenue from the Black Belt--at a time when the Irish were politically ascendant. Ironically, he earned a reputation as a progressive during his years in the state legislature. (In fact, he was simply pursuing the interests of the Chicago machine, which at the time included progressive New Deal jobs and welfare programs.) And thanks to an unlikely series of premature and accidental deaths, one political opportunity after another fell into his lap.
Not that Daley wasn't supremely ambitious. Accumulating, then holding on to power, was for him the whole ballgame; in contrast to so many other pols, money never held much interest. He maneuvered his way into the chairmanship of the mighty Cook County Democratic Central Committee, the party post that gave him the clout to "slate" candidates for city, county, and even statewide elections. By the time he more or less installed himself as mayor in 1955, there was no doubt that King Richard had arrived.
Once in office, Daley immediately turned the City Council into "the quintessential rubber stamp." He also wasted no time in fortifying the patronage system. Daley would come to control 40,000 jobs estimated to be good for 400,000 votes. That made for a nice cushion with which to start an election campaign, but there was more to it than votes. "Daley," the authors write, "was not comfortable dealing with people who were not under obligation to him."
Neither was he comfortable with people who didn't fit his mold--that is, working-class Irish Democrats. Daley's onetime press secretary, Frank Sullivan, is quoted as saying that Daley's "idea of affirmative action was nine Irishmen and a Swede."
Still, Daley could play the game, ruthlessly. He rode into City Hall on the backs of three voting blocs: organized labor, blacks (ironically, the machine's most loyal servants), and the Mob. At first, he massaged those groups, then he cut them off when they became too powerful--as in the case of the black sub-machine run for decades by a loyal congressman, William Dawson--or too dangerous, as the Mob would become. And famously, he pulled the strings in countless state and national elections.
Meanwhile, Daley reached out to the city's mostly WASP business elites, the bankers, executives, and real estate tycoons who inhabited the downtown Loop district. Dangling money and favors in front of them--a national commentator at the time said "Daley has made it easier to do business in Chicago than almost anywhere else in the country"--he gathered the Republicans into the fold, ensuring that the GOP would be nothing but a token threat.
The alliance with business would be fruitful indeed. In 1955, Daley inherited a city with a fast-deteriorating downtown. Twenty years later, he and his City Hall "whiz kids" had transformed the Loop, ushering in Sears Tower, the McCormick Place convention center, the University of Illinois' Chicago campus, and much more. Always, Daley was more than ready to cut a ribbon or sink a spade into the ground.
Much as Daley would have loved to cut ribbons all day, his job--and the times--did get complicated. Daley's trickiest political balancing act was always that of satisfying the city's Bungalow Belt, the anti-integration white neighborhoods that made up his base, while keeping the bulging black population, whose votes he needed, in line. The mayor, who dwelt in Bridgeport his entire life and was Bungalow Belt from head to toe, would find that increasingly difficult. He had headed off King's integration push but by the time of the April, 1968, riots in the wake of King's murder, Daley was at sea, issuing, then denying, his famous and bizarre "shoot to kill" order.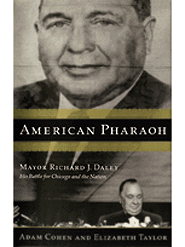 It didn't get any easier. American Pharaoh rises to a crescendo with the '68 convention and its scenes of police mayhem. And then Daley seems to sink right off the page. Increasingly out of touch and in ill health, the aging Daley muddled through the next eight years, suffering 1,000 cuts from journalists, prosecutors, and the hated liberals without ever loosening his grip on power. But no one was able to say to him: "It's over." Indeed, by the time the phrase was spoken on Dec. 19, 1976, Daley had crashed to the floor in his doctor's office, the victim of a fatal heart attack.
His legacy, as Cohen and Taylor write, is the sea of skyscrapers, highways, and, yes, stable middle-class neighborhoods that make up much of Chicago. Daley the builder, they say, "may well have saved Chicago." Maybe so. But anyone who drives up Daley's Dan Ryan Expressway--a 14-laner that separates Bridgeport from the black South Side--and gazes up at his Robert Taylor Homes would have to conclude that the Pharaoh built many walls but far too few bridges.
Before it's here, it's on the Bloomberg Terminal.
LEARN MORE