Swollen Charities: Should They Give More?
A debate is raging over those billions in stock-market gains
Joan Oleck
The usually staid world of charity has been hopping lately. A heated debate is raging among philanthropists about whether nonprofit foundations should dish out more of their assets every year to combat poverty, cure disease, educate children, and embellish the arts. Each side has bolstered its argument with studies about the economic wisdom of upping donations. But the core of the controversy is simple enough: Should foundations give away some of the $308 billion windfall the stock market has dumped in their laps in the past decade? Or should they conserve their newfound wealth and stick to the federally defined minimum payout that requires foundations to unload 5% of assets every year?
The battle pits smaller foundations and liberal philanthropy professionals, who advocate a bigger giveaway, vs. some of the largest foundations, which want to conserve their wealth. "We all need to pay out above the 5% minimum if we are to fulfill our social responsibility of an open society," financier George Soros urged in a statement to the Council on Foundations' annual meeting, held in Los Angeles on May 1. The Council's 1,900 members--mostly old-money foundations such as Ford and Charles Stewart Mott--support staying at 5%.
6% SOLUTION? Soros' prodding gives a big boost to the National Network of Grantmakers (NNG), a coalition of foundation staffers who last fall kicked off a national "1% More" campaign to persuade major foundations to up their payout to 6%. NNG and a watchdog group called the National Committee for Responsive Philanthropy take a purely voluntary approach; they're not trying to change federal law to force higher spending. But they believe that in an era of 24% stock market returns, foundations should give away at least some of that windfall to nonprofit groups. Today, an extra 1% would mean nearly $4 billion more in aid a year, given foundation assets of more than $430 billion (table). Advocates say that foundation trustees are losing sight of their mission by amassing such wealth. "We're in the business of grantmaking, not investment banking," says NNG board member Diane Feeney, who chairs the "1% More" campaign.
Mainstream foundations counter that they're simply exercising financial prudence. They point out that even under the mandated 5%, philanthropies are pumping out almost $23 billion a year to good causes, up from just $6 billion in 1988. Paying out more would create unreasonable expectations among grantees, prompting them to set up or expand programs that couldn't be sustained long-term. Besides, preserving assets in the event of a down market should be the main priority, argues J.K. Brown, managing director of Goldman, Sachs & Co.'s Not-For-Profit Institutions Group.
Indeed, in a severe market slump, Brown warns, it would be difficult to maintain a 6% payout. Brown and his colleagues are so worried that charities have already become dependent on huge grants that last November they authored a research report advising Goldman's foundation clients to start "educating their constituencies regarding the long-term benefits of controlled spending at rates well below 5%." The report concluded that a 6% payout would be a blow to current asset levels if the stock market returned to a long-term bear market such as the one last seen in the 1970s. A foundation with a 6% payout would suffer a 50% decline in assets, the study found.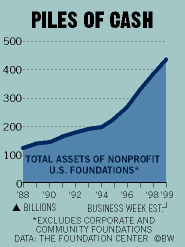 The higher-payout camp says that's a worst-case scenario. Last October, a study for NNG by Barnard College economist Perry G. Mehrling concluded that because foundations earned 8% on average from 1975 to 1994, they could have paid out 8% without eroding assets.
The bottom line is really a philosophical one: What do you do with a windfall--plow it back into your asset base for a rainy day, or disperse it now, with weighty warnings that it may be short-lived? To activists, the answer is to spend more now--foundations will still have plenty more where that came from.
Before it's here, it's on the Bloomberg Terminal.
LEARN MORE