Jim Callinan Finds It's Lonely At The Top
Morningstar's equity-fund manager of the year, is finding that this market humbles even the most seasoned stock pickers
Robert Barker
In the mutual-fund game, being named a manager of the year by Morningstar is the Cy Young, the Heisman, the Nobel, and the Oscar for best director all in one. Peter Lynch has won it. So have Marty Whitman, Tom Marsico, and Bill Miller. Reigning champ Jim Callinan last year drove his RS Emerging Growth Fund up 183%--enough, you might think, to put a triumphant spring in his step.
Not so, I was surprised to discover a few weeks back when I dropped by his San Francisco office. Instead, I found an amiably distracted guy in refreshingly modest surroundings--a spare, second-floor cell with gray miniblinds to block its view overlooking Market Street. I also found that Morningstar's manager of the year right now is a lot like many other executives in a hot economy: struggling to keep up with more work than he can handle.
With nearly $7 billion, the fund had just announced a plan to close its gates to the double-tractor-trailer loads of cash that investors had been dumping on it, nearly doubling assets from their yearend level. "It was too much, too faaker has remade itself-and embraced the Net
In late March, when Janiece Webb and other Motorola Inc. executives visited the London headquarters of wireless giant Vodafone AirTouch PLC, they ran into unconcealed anger. The company's top brass were fuming over Motorola's past arrogance and its repeated blunders in delivering cutting-edge phones. "I don't want to waste my time with you guys," said Paul Donovan, Vodafone's marketing director, according to people at the meeting. But Webb, head of Motorola's Intee said. "I want to get those people whole."
Where did the money go? Into such stocks as Power Integrations. An old Callinan favorite, the company makes semiconductors that go into cell-phone rechargers from Motorola and others. Callinan pounced on the stock after it plunged 20 points, to 29. He's convinced that disappointing first-quarter sales will prove a blip. "These small companies can't smooth out their revenue growth. They're not GE," he said. In the Mar. 24 downdraft, he grabbed 400,000 shares to add to the 937,400 he held on Feb. 29. Now, however, the stock is trading near 23. Likewise, another holding he's high on, paging service WebLink Wireless, has been slashed in half since March. Back then, Callinan doubled his big stake in EchoStar Communications, a satellite TV broadcaster, only to see it sink 45%. He also added to modem maker Efficient Networks, the fund's largest position on Mar. 31. It since has plummeted 67%.
INTENSE RESEARCH. Callinan calls these losses "a short-term setback." He ultimately may prove right on those stocks and others. The clear and present challenge, he told me, is to develop enough expertise among his staff about specific slices of the tech biz to spot the next hot stocks. How do they get smart enough to do that? Last summer, for example, Callinan spent a ton of time boning up on Internet software, in part by sitting next to information-technology managers at industry meetings. There, he discovered which products IT execs felt compelled to buy in order to keep their networks running up to speed. That, in turn, pointed him to such winning stocks as BEA Systems and Check Point Software Technologies, each boasting must-have products with fat margins. "You make a lot of money when the vendors can rip people off," he explained.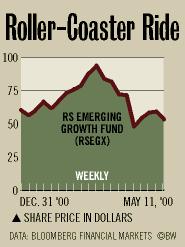 Doing this sort of basic industry research, though, takes time and experience. That's why--with RS Emerging Growth so swollen with cash and a new fund that invests in companies big and small, RS Aggressive Growth, just out of the gate--Callinan has been hiring research analysts to bolster his team. Would they, I wondered, permit the flagship fund eventually to reopen? "We'll see how they work out" first, he said. That tells me Callinan has all the assets he has good ideas for right now. And what should that tell you? Only this: You're better off avoiding hot funds where cash may outstrip ideas.
In his distracted way, Callinan told me how surprised he was when he first heard he won the Morningstar award. "I didn't know really what that meant," he said. "But I looked at the other winners and the honor has sunk in....I really want to follow it up with a great year." That's proving quite a struggle.
Questions? Comments? Send an e-mail to barkerportfolio@businessweek.com or fax (321) 728-1711
Before it's here, it's on the Bloomberg Terminal.
LEARN MORE