Diversity Isn't Always The Key
CEO William Stavropoulos explains why Dow stayed with chemicals
Seven years ago, Dow Chemical Co.'s top executives took a long, hard look at the business and did something unusual: They decided to keep the company focused on chemicals. It was a contrarian move in a decade when rivals from Monsanto Co. to Germany's Hoechst were pulling out of chemicals and getting into higher-margin sectors, such as drugs and agricultural biotech.
Instead, Dow committed to revitalizing its core chemicals-manufacturing operations. The Midland (Mich.) company slashed costs, shuffled assets, boosted research and development, and sold off noncore operations. Dow also began making strategic acquisitions, culminating in last year's $11.6 billion bid for Union Carbide Corp. The merger, expected to be completed by midyear, will make Dow a $25 billion chemicals behemoth, second in size only to DuPont in the chemicals sector.
Early this year, a skeptical Wall Street was finally buying into Dow's strategy, bidding up its shares to nearly $141.50 on Jan. 6. Then higher oil prices scared Wall Street, and Dow's share price fell as low as $92 in March. But On Apr. 27, the company surprised Wall Street by reporting first-quarter earnings growth of 26%, to $415 million, on the back of revenue growth of 22%, to $5.4 billion. The results, which drove Dow's share price up 25% from its March lows, suggest that CEO William S. Stavropoulos' strategy might be paying off. Business Week's Thane Peterson recently checked in with Stavropoulos. Here are edited excerpts of their conversation.
Q: Dow has stuck with chemicals--a tough, cyclical business--while many competitors were diversifying. Why?
A: When we analyzed our long-term strategy, we looked at chemistry and plastics and asked if they had a role in the new global economy. The answer was a resounding yes. But if we didn't see our way to being a world leader in a business, we divested it. In the last five years, we have sold off over $10 billion of businesses, while at the same time adding $10 billion in new businesses in addition to Union Carbide. About half of our sales are now from growth businesses, and our goal is 70%. We also went on a productivity drive. We took out $2.5 billion from costs in the last five years.
Q: That included cutting employment by 30%?
A: Yes. But more importantly, we reorganized. We went from a geographical organization to a global business organization. We also took out layers of management. There used to be 12 layers of management. Now there are no more than five between me and the most junior employee.
Q: But how has that showed up financially? The earnings and share price have been under pressure.
A: We hit our high in January of about $141. The problem now is the rapid run-up in oil prices. That squeezed the margins on our products. We can't pass the price increases along fast enough. But if you look at our total shareholder return last year, our stock-price increase and dividend returned about 50%. We outperformed our industry, the S&P 500, and the Dow Jones industrial average last year.
Q: You've boosted R&D spending to increase development of higher-margin specialty chemicals. In which areas would are you expecting a boost?
A: In the last several months we've announced three significant new products. The first one is SiLK, a new resin for making semiconductors that is being adopted by IBM and others.
Q: And you've said within three years that might be a $200 million business?
A: Right. The second product is polylactic acid, a new corn-based polymer with broad applications. That could be a $1 billion product. The third is called INDEX, a new polymer that will be a $500 million product. These are examples of what happens when you really focus in on market needs.
Q: How does Union Carbide fit in?
A: We want to supplement internal growth with acquisitions. One of the objectives was to be financially strong in all parts of the chemical industry cycle so we could take advantage of acquisition opportunities. The two objectives there are to boost our higher-performance businesses and to expand geographically. Not including Carbide, we've made $5 to $6 billion worth of acquisitions. Carbide is another $10 billion.
Dow and Carbide complement each other. We're stronger in Europe than they are, so we can bring some of their products there. They have a strong presence in the Middle East, where we do not. They have a growing presence in Asia which complements our presence there.
Q: Carbide was involved in the 1984 chemicals spill at Bhopal, India, that killed or maimed thousands. Will that create an image problem for Dow?
A: It could. I can't comment directly because they're still separate companies. Union Carbide settled with the Indian government. But our whole drive, no matter what business we're in or acquire, is to be an absolute leader in environmental health and safety performance. Yes, people might tag us with it. But we're looking to improve the situation, to bring it to the next level.
Q: Is there a potential for the same controversy over bioengineered chemicals that we see in genetically engineered foods?
A: From the chemical point of view, no. What people want to know is: Have you tested the product? Have you labeled the product carefully? Do that and the products will be accepted. The exciting part of this is that through biocatalysis--using enzymes to convert one chemical to another--there's less waste and faster chemical reactions. That means we use less water, create fewer air emissions, etc.
Q: There's been talk on Wall Street that you'll spin off Dow's agricultural biotech unit into a separate company. Is that a possibility?
A: We have a very good ag business with a great future on its own. But we've said that if the right alliance or joint venture comes along, we'd very seriously consider it. More likely we would do a joint venture than a spin-off.
Q: You've got a lot of different things going on with the Internet. For one, you've formed a buying consortium with 13 other big companies. Is that a big potential cost savings?
A: We buy a lot of equipment in common with other companies. But the coding is different; there is no standardization of equipment. Dow buys pump 1-2-3 and some other company buys pump 6-7-8. They're really the same pump. The idea is to standardize so it will be more efficient for the suppliers and for us.
Q: Are there other elements to your Web strategy?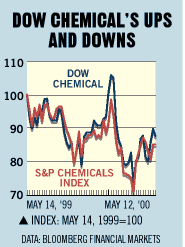 A: To improve interaction with our customers, we have created something called "My Account at Dow," which we introduced about four months ago. We have about 500 customers on it and expect to have all our customers on it eventually. They order, track orders, do billing. It really improves our ability to have an intimate relationship with our customers.
Q: Is international expansion a big source of potential growth?
A: It will be. Come June, we'll become 100% owner of a plant in the former East Germany. We've spent the last five years there in remediation and construction. That comes to an end in June, and we have a call to buy the 20% of company we don't already own. This will be a great source of growth for us. The facilities are globally competitive now. There's also Asia, of course. We've just announced a couple of new facilities for China. And we have a major expansion going on in Latin America.
Before it's here, it's on the Bloomberg Terminal.
LEARN MORE