Commentary: Pressure At The Pump May Be Here To Stay
Stanley Reed
The oil market is looking for excuses to go up these days. OPEC's March promise to increase production temporarily cooled last winter's fever. Now prices have roared back up to the $30 per barrel range. Why? Refiners in the U.S. and Europe are scrambling to buy crude so they can rebuild gasoline inventories for the summer driving season.
While most oil companies are still skeptical that these prices will stick, analysts detect a change in market dynamics. After more than a decade of relentless downward pressure on prices, the fundamentals and psychology of the industry have shifted. "The world is going to have to get used to a higher range of oil prices," says Edward L. Morse, executive adviser at Hess Energy Trading Co. in New York.
In part, that stems from soaring demand. The red-hot U.S. economy--combined with recoveries in Europe and Asia--has analysts projecting demand will grow 1.6% this year. Although OPEC has added an estimated 1.4 million barrels a day in production since March, that's not enough. Low inventories of crude and other products around the world have only slightly eased. U.S. gasoline stocks, for instance, are just 200 million barrels--8% below last year's levels. Tight inventory tends to drive up prices. That's one reason their fall this spring was brief. The markets quickly began to look ahead to possible shortfalls later in the year.
FOCUS ON SURPLUSES. Analysts are closely watching Saudi Arabia and the other big Gulf producers because they now own nearly all the world's spare production capacity. Adam Sieminksi, an oil analyst at Deutsche Bank in Baltimore, says the big producers need to add another 1 million barrels per day to prevent "runaway prices in the third quarter."
But the Saudis are more afraid of sending prices down to $10 than they are of higher prices. And their actions will also lag prices: It takes roughly 45 days for oil from the Gulf to hit the U.S. market. OPEC says it will intervene if a 20-day moving average of crudes strays from a $22 to $28 barrel range, but that figure is only $25.01 now, calculates Peter A. Gignoux, head of oil trading at Salomon Smith Barney in London.
Indeed, the Saudis now are focusing on surpluses in May, not future shortfalls. A Saudi source in Riyadh blamed the recent runup on a strike in Norway, gloomy International Energy Agency comments, the product markets--anything but a shortage of crude. He said OPEC would "not be in a hurry to increase production" at a review meeting in June. Still, he conceded, "there may be a real need to do so in September."
As they study the markets, the big OPEC producers are in a tricky position. They don't want to alienate the U.S., which protected them from Saddam Hussein in 1990-1991. Still, they've seen lower oil prices erode their standards of living and want to rebuild their financial reserves.
Even the Saudis, who pay close attention to Washington, may be inclined to err on the side of higher rather than lower prices. Crown Prince Abdullah, who is running the country for the ailing King Fahd, is more concerned than his predecessors were about nurturing relations with cash-poor Iran. "Abdullah wants to use oil as an instrument of foreign policy," says Vahan Zanoyan, CEO of Washington-based consultants Petroleum Finance Co.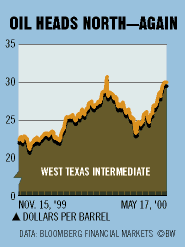 Any increases may be too late to head off what could be a long, hot summer for American drivers. Low U.S. gasoline stocks are still putting upward pressure on pump prices, which have hit an average price of $1.49 per gallon, up 35 cents from a year ago. And, warns David Knapp, head of the oil industry and markets division of the IEA, refiners adjusting their runs to produce more gas could lead to a repeat of last winter's heating-oil crunch in the U.S.
What could change the picture? An economic slump, especially in the U.S., would quickly cool the thirst for oil. But there are few signs that things will get that bad. Meanwhile, the world is waiting for oil companies to invest in new capacity to meet increased demand. With the industry badly burned by the recent low prices--and still believing that prices will soon trend down again--that could be a long wait.
Before it's here, it's on the Bloomberg Terminal.
LEARN MORE