Commentary: Ford: A Comeback In Europe Is Job One
Christine Tierney
When Ford Motor Co. announced it would cease car production at its 69-year-old Dagenham plant in Britain, outraged workers wanted to know why. Nicholas V. Scheele, chairman of Ford of Europe, had a simple explanation: overcapacity. Europe's carmakers are now geared to produce 30% more cars than the market can take. The result has been a savage price war that drove Ford's profits in Europe down 85% last year, to $28 million, on sales of $30 billion.
Certainly, overcapacity is a problem in Europe, the most crowded auto market in the world. But Ford has to tackle a far bigger problem: Europe's consumers. They are some of the most demanding car buyers on the planet, and Ford has lost touch with many of them. Until the U.S. giant learns once more what makes European drivers tick--especially in the vital mass market--all the capacity cuts in the world won't help.
Ford's key problem is its outdated model range. Preoccupied with acquisitions--Jaguar, Volvo, and most recently Land Rover--Ford has placed too much emphasis on the luxury end of the business. Glam is beautiful, and Scheele, who arrived from Jaguar, knows that well. But most Europeans are buying small and compact cars, segments in which Ford is seriously lagging.
Consider the $12,090 Fiesta, Ford's entry in the fiercely competitive compact segment. The current model was launched 11 years ago--an eternity in the car market. And it doesn't stand up to newer cars produced by design-savvy rivals. Last year, Ford sold 321,000 Fiestas in Europe--just over half the sales of the Fiat Punto or the Peugeot 206. Yes, Ford beefed up its small-car lineup in 1995 with the launch of the boldly designed Ka minicar. But the Ka stole customers from the Fiesta as well as from rivals. And sales of the Ka and Fiesta combined still fail to match either the 206 or the Punto.
Ford's last big rollout, the midsize, $18,720, Focus in 1998, is faring better. It is aggressively styled, comfortable, and well equipped. But it hasn't halted a slide in the Ford brand's European market share to 8.6%, from 11.7% five years ago. When Renault created a booming niche for compact minivans in 1996 with its Megane Scenic, just about every auto maker rushed to produce its own version. Not Ford, which considered such a project, then dropped it.
Instead, Ford has gone long on the mergers and acquisitions front. When the pending purchase of Land Rover from BMW is completed, it will have spent more than $10 billion buying Rover, Volvo, and Jag. Scheele rose to the top after rejuvenating the Jaguar brand. The new Baby Jag, expected to more than double Jaguar's sales, will be built at the Halewood plant, where Ford-brand production is being phased out. But Ford has to get beyond the either/or equation. It can't succeed by neglecting one end of the market because it's doing well in another. While small and compact cars are small segments in the U.S., they represent almost 60% of the cars sold in Europe.
To restore its presence in these markets, Ford has to offer the flair and quality European consumers demand. One global rival, Toyota Motor Corp., seems to get the picture. It's shaking off its reliable-but-dull reputation among European drivers. The curvaceous Yaris appeals to them. A panel of auto journalists voted it European Car of the Year for 2000. Ford could learn a lesson there.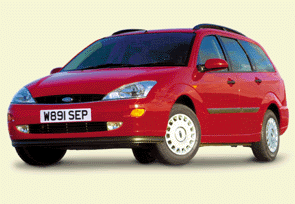 Scheele, an affable Briton, has an ambitious sales strategy to regain lost ground. Ford will launch nine new Ford-brand products in each of the next five years, including a new Fiesta to be built in Germany. But Scheele faces an uphill struggle. Competitors have dug in. Volkswagen is the undisputed leader in the region, offering dozens of solid, attractive cars under the VW, Skoda, Audi, and Seat brands. Renault and PSA Peugeot-Citroen have distinguished themselves with innovative, affordable small models.
If Ford can beat this lineup in Europe, it stands to win big elsewhere, too. Any product that succeeds in the world's toughest car market is bound to be a winner in the emerging markets of Latin America, Eastern Europe, and Asia. Sales growth there will be in small and compact cars. And Ford will want some of it.
Before it's here, it's on the Bloomberg Terminal.
LEARN MORE