Commentary: Finally, Japan Inc. Is Getting Serious
By
The days of government pump-priming and corporate loan guarantees are likely over in Japan. Authorities simply can't risk increasing public debt any further. That means the economy will struggle along on its own. "Nobody is expecting a macro-bailout or a return to high-growth Japan," says Merrill Lynch Japan Inc. economist Jesper Koll. The Japanese will be lucky if the economy grows 1.5% or so annually over the next few years.
It's a gloomy picture. Yet scan the latest statistics from Japan, and it's possible to find cause for hope. The most surprising news: a surge in manufacturing productivity of 6.5% during the first quarter, up from near zero in mid-1999. The burning question is whether or not the number is a statistical blip. Japanese productivity has been bouncing around all decade, from positive to negative, as economic growth started, then stalled. Yet the current uptick began in mid-1998 and has a lot more momentum--hence the optimism that this time it's for real.
VIRTUOUS CYCLE. Substantial jumps in productivity generally occur when firms are vigorously restructuring and using the latest information technology to make manufacturing more efficient. Japanese companies have abandoned previous restructuring campaigns the moment profits showed a modest revival. This time, though, Corporate Japan seems to be getting serious about making deep cost cuts and earning decent profits. Operating profits on average are estimated to be up 15% in the latest quarter, versus flat growth for the same period a year ago. That's a pace HSBC Securities Japan reckons can continue through 2000.
Meantime, layoffs plus wage and bonus cuts have pushed down labor costs 7.5%. Japanese managers, long loath to make deep job cuts, now seem to be getting used to the idea. According to a government survey of company executives, during the next three years, 1 million workers will be laid off as companies use the Internet to eliminate positions, procure supplies, and venture into e-tailing. To gear up for this, Japanese companies are bingeing on computers, network equipment, and smart phones.
The hope is that Japan is entering a virtuous cycle: The profit recovery feeds a high-tech capital spending boom, which in turn keeps boosting productivity and driving up profits. A few years of that might get consumers spending again, once the layoffs are done. Workers would see their pay start growing again. Sure, the unemployment rate may hit an unprecedented 7%, adding to short-term consumer gloom. But it is instructive to recall that the U.S. experienced a "jobless recovery" during the early 1990s. No one talks about that now.
To reach critical mass, Japan's hidebound corporations are taking once unthinkable steps. Consider the case of Nippon Steel, Japan's leading stainless steel maker, and Sumitomo Metal Industries, which dominates in steel pipes. Years ago, each ventured into the other's business with predictably disastrous results. But in May, Nippon agreed to shutter its money-losing steel-pipe plant; Sumitomo agreed to close its loss-making stainless facility. Each will send the other its clients. The result: savings of up to $300 million and a surprising alliance between two rivals.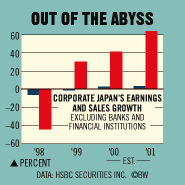 Nimble, small companies that have invested heavily in computer systems are benefiting, too. Office products player Askul Corp. has doubled its sales to $410 million during the past year, thanks largely to its Internet site and a new high-tech distribution network that ensures 24-hour turnarounds on orders.
Of course, Japanese companies still have a long way to go to match their rivals in the U.S., where a 20% return on equity is twice that of many firms in Japan. But right now it looks as if Corporate Japan has finally emerged from its profit slump. And this time around, the earning recovery may have some real legs.
Before it's here, it's on the Bloomberg Terminal.
LEARN MORE