Canada: Another Economy On A Tear
by
Helped by its southern neighbor's momentum, Canada's economy is barreling ahead. Growth has overshot expectations since mid-1999, a big reason the Bank of Canada followed the Federal Reserve's lead and hiked its overnight rate by a half point to 5.75% on May 17.
In its May 11 Monetary Policy Report, the BOC revised upward its already rosy outlook. It now expects real gross domestic product to grow between 4% and 4.5% in 2000. Back in February, the bank expected real GDP to rise near the top of a 2.75%-to-3.75% range.
Speaking in New York on May 12, BOC Deputy Governor Sheryl Kennedy said the "most notable" change in the forecast is stronger domestic and global demand for Canadian products. Despite weak-looking monthly numbers--including a drop in housing starts and February declines in retail sales, factory orders, and shipments--the BOC thinks first-quarter real GDP grew at an annual rate between 4% and 5%.
The inflationary implications of demand growth have prompted the BOC's tighter monetary stance. The May 17 move was its fourth hike since November. But the expansion in money-supply remains quite rapid, and more rate hikes are expected.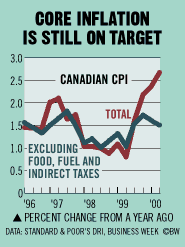 Total consumer prices in the first quarter rose 2.7% from a year ago. But when food, energy, and indirect taxes are excluded, the core CPI was up only 1.5% last quarter (chart). The BOC kept its 2000 inflation target at 1% to 3% and expects core inflation to end the year at about 2%.
In assessing the outlook into 2001, the BOC included three key uncertainties. First, unexpectedly strong demand from both domestic and global sources could outpace Canada's ability to meet it. Second, inflationary pressures in the U.S. could spill over to Canada. On the plus side, though, is a third unknown: The BOC's measure of potential output may be too conservative. If so, Canada may be able to enjoy a few years of faster economic growth and better job gains without running into supply and labor constraints and price pressures.
Before it's here, it's on the Bloomberg Terminal.
LEARN MORE