A Tale Of Pain And Hope On Lake Maracaibo
Christina Hoag
Barranquitas looks like any of the hundreds of sunbaked, working-class towns in Venezuela's vast interior. The central square is dominated by a statue of liberator Simon Bolivar. Nearby is the blue-and-white public school. Signs displaying an arctic bear--the mascot of Venezuela's ubiquitous Polar beer--are everywhere.
But there's something odd about the inhabitants of this fishing village at the southern end of western Venezuela's Lake Maracaibo. As a man walks down the street, his arms and legs suddenly flail out in a sort of a leaping dance. In a flash, he resumes a normal gait and goes on his way. Nobody pays attention. A skeletal woman approaches with a wild-eyed stare, unsteady on her feet, as if drunk. But as she gets closer, you see that her legs are as stiff as flagpoles and her neck is rigid and crooked. Farther along, two men sit chatting. As one's eye twitches violently, the other flings out his hand. Then they, too, carry on as if nothing has happened.
It seems like something out of The Twilight Zone, but the tragedy is all too real. Barranquitas has the world's highest incidence of Huntington's chorea, a fatal genetic disorder. Nearly half the town's 10,000 people possess the gene.
Huntington's attacks brain cells, and it doesn't discriminate between men and women. It begins with such symptoms as depression and aggressive behavior. Then its insidious onslaught proceeds through loss of muscle control, psychiatric disturbances, and cognitive dysfunction. After 10 to 20 years, it ends with frozen muscles and death. Some 40,000 people in the U.S. face this fate. Its most famous victim was folk singer Woody Guthrie, who inherited it from his mother. His symptoms began at age 40, and he died 15 years later, in 1967. Two of his eight children have died from the disease, too.
The extraordinary concentration of Huntington's victims in Barranquitas and the surrounding towns in Zulia state has made the area a magnet for genetic researchers. For the past 22 years, Nancy S. Wexler, a Columbia University clinical psychologist, has spent two months a year in Zulia. In 1993, her Barranquitas research led to the breakthrough discovery of the Huntington's gene and the abnormal DNA sequence that causes the illness. "There's no way we would have found this gene without these families," she says.
On a sweltering day, Wexler and her team--seven students and professionals from various branches of medicine, mainly neurology and psychology--pile into an old American school bus for the three-hour drive on a paved but potholed road to Barranquitas from Maracaibo, the state capital. As her long, straw-blonde hair streams in the breeze, Wexler explains that she started coming here in 1979 to work with a Venezuelan doctor named Amerigo Negrette. He was the first to recognize the prevalence of Huntington's in the area, in the 1950s. Negrette retired, and Wexler continued his genealogical study.
The family tree today stands at 16,000 people, most of whom trace their lineage back nearly 200 years to a common ancestor: a woman with the Huntington's gene who had 10 children. "Every year we add about 1,000 people," Wexler says. The spread of the gene has been exponential because of the astronomical birthrate in the area--families with 8 to 14 children are the norm. Wexler's efforts to make contraception and sterilization available have met with opposition from both authorities and the Catholic Church.
DOUBLE DOSE. The disease, in the meantime, continues its deadly progress. If one parent has Huntington's, offspring stand a 50% chance of contracting it. But inbreeding here makes things worse. Avoided and mocked by outsiders, the afflicted live largely in isolation. So Zulia has the world's only incidence of "double-dose" genes, meaning both parents are offspring of Huntington's victims. That gives their own children a 75% chance of inheriting the disease.
On this April morning, the scientists set up in Barranquitas' spartan ambulatory clinic, where a crowd gathers, eager to participate in the testing. "They're working on a cure--at least, that's my hope," says Maria Gregoria, 24, whose mother died of Huntington's. The team tests motor and cognitive skills to determine factors that trigger the onset and behavior of the disease. Blood and sperm samples are also taken. "We don't know how the gene kills," says Wexler. "That's the zillion-dollar question."
She escorts the newest team members on a tour of the town. After a short walk through tidy neighborhoods of cinderblock homes, they arrive at the tin-shack settlements where most victims live. The dirt paths are criss-crossed by open sewage ditches filled with garbage, dead fish, and poisonous-looking black water. The stench of excrement permeates the air. Naked and near-naked children, bellies distended from parasites, their normally black hair gone light brown from malnutrition, dart around the gringos with glee.
The disease has overwhelmed the community, says town nurse Norma Urdaneta. Generations of children have never attended school. As the disease afflicts parents, children become the heads of household; boys work on the fishing boats, while girls look after younger siblings and sick family members. Often, 15 to 18 people live in a dirt-floor hut only slightly bigger than a walk-in closet, as ill relatives and their offspring descend on a healthy family member.
Suicide is common when a victim realizes the disease has set in, while some families simply evict ill relatives. The sufferers, often with open sores where uncontrollable limbs have hit into walls and doors, wander the streets begging for food. As to government financial help, there is none. "The government at all levels has forgotten about us," says Norma. "They remember us when it's election time."
But Barranquitas recently found a benefactor--Shell Venezuela, which operates a drilling rig in the lake nearby. Having discovered the town's grim plight, the oil company is providing materials to build a clinic with a special area for Huntington's; the community donates the labor. Shell also is building a community center and a concrete drainage ditch; its employees teach residents to plant vegetables for food.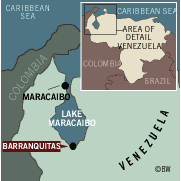 Before beginning the day's research work, Wexler visits Ines Margarita, a 30-ish housewife who lost 3 of her 14 siblings to Huntington's and is terrified of getting sick, because she has eight children. "The hardest part of this is seeing a perfectly healthy person one year, and the next year, they're sick," Wexler says. Her empathy runs deep, as she is at risk of contracting the disease herself. Her mother died of Huntington's in 1978. Ten years earlier, when her mother was diagnosed, Wexler's father founded the Hereditary Disease Foundation in Los Angeles. It receives grants from the National Institutes of Health and other foundations, and funds Wexler's research, as well as a new nursing home and clinic near Maracaibo.
The researchers spent two months in Barranquitas and other villages this year. As they prepared to leave, Wexler encountered a victim named Lucrecia, a 39-year-old woman who tottered by on painfully thin arthritic limbs. With 10 children, she has been on her own since her husband left her for another woman two years ago--when she learned she had el mal de San Vito, as the locals call Huntington's. "We go hungry all the time," she tells Wexler before lurching into the shadows. Wexler shakes her head. Someday, she hopes, she'll come back with a cure.
Before it's here, it's on the Bloomberg Terminal.
LEARN MORE