business
Public Access Denied
As the IPO market cools, venture capitalists get tough
By
Once upon a time--say, about a month ago--life in the land of venture capital seemed so easy. Just throw some cash at an entrepreneur with a clever idea, wait a year or so, then collect a king's ransom when the company goes public.
That scenario seems like little more than a fairy tale today. Thwarted by the big drop in technology stocks, 11 companies withdrew their initial public offerings in April, a 12-month high. All told, 29 initial public offerings were pulled in the first four months of the year, compared with 42 for all of 1999, according to IPO.com Inc., a New York-based research firm (chart).
Whether or not you plan to go public, you'll feel the ripple effects as financing becomes harder to get. Consider Uni-scape Inc., a 70-person Redwood Shores (Calif.) startup that helps companies do business internationally over the Internet. Uniscape already has raised $7.5 million of venture-capital funding and is looking for more. "Last year, the VCs only wanted to hear sexy stories," says Uniscape CEO Alex Pressman. This time, VCs brought along their fine-tooth combs, scrutinizing gross margins and conducting extensive interviews with customers. "They tried to poke holes in every claim we made," Pressman says.
Meanwhile, with formerly sky-high valuations crashing down to earth, investors are able to get the same kind of equity--about 40% for early-stage investments--for a lot less money. Once they're on board, they're demanding more control over issues like governance and hiring and firing. "We're definitely tougher about what entrepreneurs have to deliver," says Bill Sprague, CEO of Crest Communications Holdings Inc. in New York.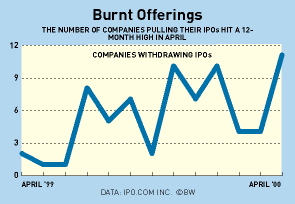 Still, it's hard to imagine entrepreneurs giving up, and there's money to be had. Some $46 billion poured into venture-capital funds in 1999, compared with just $28 billion in 1998. Even now, as many as 25 IPOs remain on schedule to come to market in June. But most VCs say the days of going public just months after launching are probably done. "Entrepreneurs are going to have to be private longer and plan accordingly," says Tony Hung, general partner of DynaFund Ventures, a Torrance (Calif.) firm that invests in early-stage technology companies. With the fairy tale over, expect wannabe princes to spend more time as frogs.
For more information about venture capital, click Online Extras at frontier.businessweek.com
Before it's here, it's on the Bloomberg Terminal.
LEARN MORE