U.S.: Trouble In Paradise As Inflation Slithers In
Rising labor cost will heighten the pressure to raise prices
by
There's a serpent in this economic Eden. Up to now, the economy has enjoyed strong growth and falling unemployment, devoid of any upward pressure on wages or prices. That combination has fueled healthy corporate profits, rich returns on stocks, and the biggest consumer spending spree in two decades.
Maybe investors haven't noticed yet, or maybe they are just in denial, but signs are mounting that inflation has already begun a gradual climb. And now, first-quarter data on labor costs show that wages and benefits are also accelerating. Moreover, all this comes at a time when the economy shows no sign of slowing down. The data are undeniable: The U.S. economy is overheating as a result of excessively strong demand, and more aggressive action from the Federal Reserve may be needed to take it off the boil.
The main source of inflation fear for Fed policymakers has always been the labor markets. Ultimately, heavy demand for scarce workers creates a flash point at which pay growth accelerates. That point appears to have arrived. And despite excellent productivity gains, upward pressure on business costs in 2000 seems inevitable at a time when companies are already feeling more pricing power.
To be sure, the upturn in inflation will proceed gradually, reflecting the inflation-dampening effects of technology and globalization. The Fed can still prevent a major acceleration in inflation without killing off the expansion, but the task is now much more difficult.
Fed strategy will have to shift from being purely preemptive to more reactive. That will mean more--or larger--rate hikes this year. If so, investors' expectations of corporate profits could take a big hit. The danger: Any Fed-engineered slowdown in demand could fall back on the stock market, hitting the economy harder than the Fed--or anyone else--desires.
THE MOST WORRISOME NEWS comes from the Labor Dept.'s employment cost index (chart). This measure of hourly compensation that includes wages, salaries, and benefits rose a steep 1.4% in the first quarter. Yearly growth jumped to 4.3%, an eight-year high. The broad acceleration has been especially sharp in benefits, fueled mainly by costlier health care. Yearly growth in wages and salaries picked up to 4.1% last quarter from 3.3% a year ago, while the pace of benefits has more than doubled, from 2.3% to 5%.
The jump in the ECI last quarter probably exaggerated the underlying degree of acceleration. Bonuses in the aircraft sector boosted benefits, and higher sales commissions lifted wages and salaries.
Still, the uptrend in labor costs is unmistakable. The Fed's own May 3 Beige Book noted, "more frequent reports of intensifying wage pressures." That means that over the coming year, businesses will face at least some, perhaps substantial, upward pressure on unit labor costs. Compensation will almost assuredly grow faster, given no sign that the job markets will loosen up anytime soon. Keep in mind that the 1998-99 slowdown in compensation mainly, if not fully, reflected the sharp decline in inflation expectations that accompanied the energy-led drop in consumer inflation. Workers enjoyed increased real wages while accepting smaller nominal pay raises.
Now, higher costs for fuel and other items have lifted households' expectations of inflation by more than a percentage point over the past year, based on the University of Michigan's monthly survey. Those higher expectations will find their way into wage demands.
At the same time, productivity growth will not offset that speedup in compensation. Consider that productivity grew about 3.5% over the past year, with another good gain in the first quarter, up from 2.7% a year ago. But much of that faster pace reflects the economy's growth spurt, to 5% in the past four quarters from 3.9%. If you believe that the economy will grow 5% in the coming year, then you might also expect productivity to grow 3.5% again. But with compensation speeding up, unit labor costs will still accelerate. Moreover, if economic growth slows, any accompanying slowdown in productivity would add further to unit costs.
ANOTHER TROUBLING ASPECT of the pickup in compensation is that it comes at a time when inflation is already rising (chart), suggesting a greater ability of companies to pass along higher costs into higher prices.
Inflation, as measured by the price index for personal consumption expenditures, a measure preferred by the Fed over the consumer price index, has heated up to 2.9% in March, from 1.2% a year ago, fueled by energy prices. However, a PCE core index that excludes energy, food, and tobacco, has also picked up noticeably, from 1% to 1.7%. That level is hardly alarming, but the sudden and persistent change in direction is a red flag.
Also, the future inflation gauge developed by the Economic Cycle Research Institute is saying that inflation will continue to head up. In March, the index was at an 11-year high, and costlier energy had a relatively small impact on the readings. In addition to commodity prices, the index includes nonoil import prices, labor data, delivery speeds, real estate loans, and other indicators.
ECRI analysts note that the only other time when its inflation gauge signaled inflation trouble ahead was prior to the substantial Fed tightening of 1994. Then, as now, say the researchers, the world economy was in a synchronized upturn, without the glut of production capacity that characterized the years following the Asia crisis, which took global pressure off prices and wages.
THE LAST, BUT FAR FROM LEAST, concern in the inflation outlook is the economy's unrelenting momentum. The first quarter's 5.4% growth brought the average pace over the past three quarters to 6%. Moreover, the mix of last quarter's gross domestic product suggests continued strong growth in the second quarter.
That's because overall demand, which rose at an annual rate of 6.9% last quarter, shows no sign of slowing. In particular, consumer spending increased at an astonishing 8.3%. New home sales ended the quarter with an unexpected 4.5% gain in March (chart), while April car sales, at a 17.4 million rate, remained strong.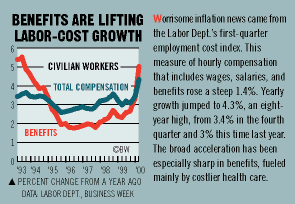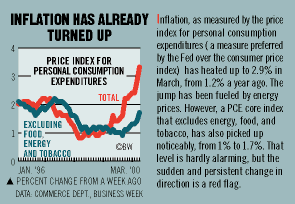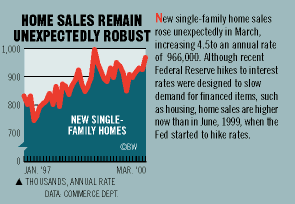 On the supply side, though, inventories grew more slowly, suggesting that additions to stockpiles are not keeping up with demand. To compensate, producers will gear up output even more in coming months. Indeed, the purchasing managers' index of industrial activity, while slipping to 54.9% in April, remains at a level that is consistent with 4.5% economic growth--still too fast for the Fed.
Back in 1997 and 1998, when price pressures in the U.S. were starting to build, it took a global meltdown and a financial near-collapse in the U.S. to drive the serpent out of Eden. This time the outside factors may not offer an offset to growing supply constraints. That means the Fed may have to do the exterminating job all by itself.
Before it's here, it's on the Bloomberg Terminal.
LEARN MORE